Mighty Avengers #1
http://www.comicboards.com/php/show.php?msg=avengers-2013083000152903
PBP to compare once you read it...
00 Good cover!
PP
-The PP can always argued to be not canon but all this info must be. Well, maybe not the lame H4H flyer with the odd choice of photo with nobodys in the background. And its fascinating to see the date today published right on time and yet the proper reading order of the Infinity Event is hardly published that way.
-Anyways, what a sad, sad info dump. Such a cheat to readers. So, Luke's H4H has been operating with no fair coverage/relaunch at all. There are Avengers Academy GRADUATES after the first-arc students with no fair coverage/explanation at all.
01
-What are Iron Man, Spidey, Wolverine, Beast chopped liver or and active Avengers roll call still on Earth. Easily a fair active Avengers lineup, to note, just as qualified as the Kooky Quartet or any other permutation of four.
-So, they seem to go out of their way to establish that this happens before Proxima conquers Atlantis, already seen in Infinity, but how does this grand 'surprise' attack of uninspiringly named DROP CAPSULES: A SPOILER FORCE place sequentially with the 'other surprise' of a sky blanketting fleet of alien ships, huh?
-Too minor a character moment for Thanos as the big bad of this new incarnation: he apparently favors unknown Proxima over unknown Maw... uhm. Okay then. *shrugs shoulders indifferently* Moving on. Guess, we'll have to be scared more by the numbers than the foes. Not even proper hypenotes to read the Infinity mini for more info.
02 Finally, followup on Cage! Yea. The return of Plunderer may be revolving door-ish but at least he's plundering and brings some overdue campy fun to the Avengers title.
03 White Tiger and Power Man. Instant H4H membership is a terribly wanting reveal. The narration box with the Avengers logo is prematurely misleading spoiler since the Mighty Avengers aren't even formed yet. However this pair does have potential and logic for inclusion. The layout is fun and the art's been good since page 1.
04 Great entrance and reference to his spider-bots. Happy with this pace and lead in so far...
05-06 Good crime scene wrapup. Better character interaction with all four to setup some decent dynamics right off.
07-09 FINALLY, followup on Rambeau!!! YEA!!! Love the name SPECTRUM! Long overdue for her to get one she can own! (Otherwise, looking forward should she have to fight Dr. Spectrum for it.
) The return of Blue Streak may be revolving door-ish but at least he's streaking cool and brings some overdue campy fun to the Avengers title. Spectrum's mindset seems angst-free and her power showing here is as off the charts as ever. Good to know and show.
10 Intro of designer Luc, a mystery aquaintence, and some Spectrum sassiness.
11-13
-Small talk between Luke Cage and... Power Man. Sheesh. And they JUST solved the codename sharing problem of Carol/Monica! (Marvel has been OCD about keeping their copyrighted names since, well, since Amazing Spider-Man Annual #16!
) Whatever, Power Man was spot on since his intro mini. Oooh, thaaat's where the PP pic came from... dumb. Okay, we get some of that wanting exposition of what Cage went off to. Their conversation is a bit dull but necessary in-story info that is redundant recap of the PP page.
-Clue that Iron Fist is the mystery aquaintence seems red herring to me.
14-15
-Some powers of Proxima's can be inferred as she flies down alongside the Earthstrike with scary, uhm. 'droppings'. SWORD is probably on a coffee break. Reed&IM are probably firing big guns at ships from Stark Tower. At least we get DrStrange's 10-20 with a unlabelled/copied Infinity crossover panel. Looks like Maw is a wannabe poet as he taunts Dr.Strange with nonsense.
16 Oooh, they're ships. Maybe the same attack ships in NA? The nature of this her slaughter orders are plain and simple and yet still seems to lacking in distracting ways. Proxima doesn't really elaborate but she does make a grand entrance into NYC.
17 "CANT BE SEEN IN-COUNTRY" clue for the mystery aquaintence and obvious superhuman.
18 GREAT response time with this trio of 'Avengers' in action.
19 THE SPLENDIFEROUS SPIDER HERO! Hilarious entrance and SpOck reaction! Numchuks? Another misleading clue it's Rand? Does anyone care to GUESS WHO IT IS?
20 Good cliffhanger face off. Okay then, that was quick. But it's got me hooked and mighty curious see what kind of team they become. Cautiously optimistic!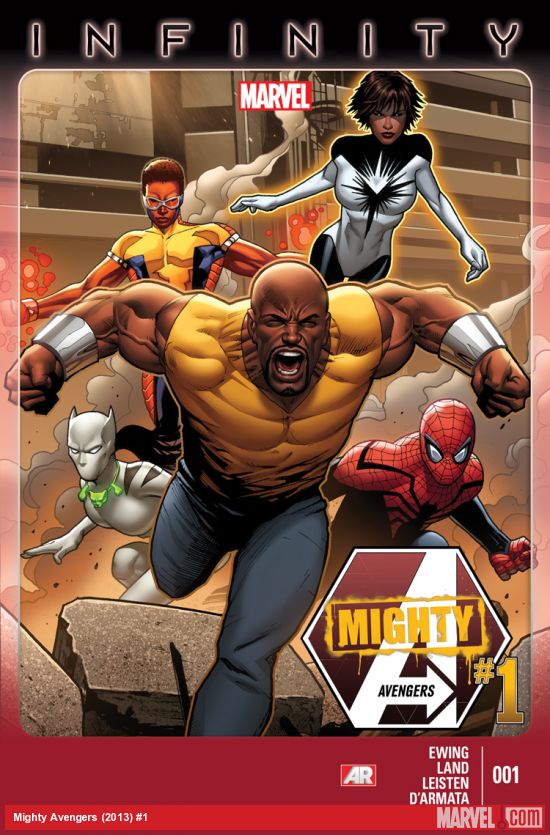 ---
---
I miss Dad and Dan.