U.S.Avengers 009 (2017)
This was fun. The art was great. With grabber poser charge on the cover.
That's not to say that the conflict resolution and win in this chapter, this time, could've/should've been a lot more... satisfying. Maybe a little less comedic banter from the stupidly evil HYDRA green guys and more detailed hero action - if not just more heroes if only in cameo action. Do we even see Purple Holosqud, Flying Goldshirt, or Mechman and his bluejumpsuited sidekick that are on the cover this whole arc let alone in this ish?
While this story picks up perfectly where #8 left off it would have been nice for better recap to pick up after #7 left off - when Ares showed up. Totally forgot that Black Knight and those 3 whoyamacallit cellmates had gotten captured. Also, HYDRA's degree of control outside the USA continues to be vague at best which only undercuts the dramatic threat of HYDRACap's reach. 20 pages of bumbling HYDRA goons may not convey best the danger that was inferred. Even McGonagall got better spotlight. Who? Exactly.
Citizen V against a whole cadre of green guys was fantastic. Toni Ho was unarmed and yet still bravely shadowed him with encouragement advice. Freeing Rulk? c'est fantastique! Almost as super as the unrevealed brand of heat resistant chewing gum sold in France. Can we assume the song he made up was IRONICALLY to the tune of Cap's cartoon theme song?
The leader of the Paris detachment for HYDRA was just a stereotyped throwaway, bumbling, bore who got one telegraphed funny line surrendering. Please tell me he was just transferred in 'cuz how would he have been able to conquer on his own? Let alone hold Black Knight and... where are the I.D.boxes for those other 3 heroes when you need them? Mabye a cameo of Stevil ordering him would have helped make him more convincing.
Squirrel Girl tried to be poetic but wasn't really.
Enigma tried to be emotional but wasn't near as believable as Toni.
Rulk tried to give raging payback but was underwhelming.
Outlaw, Captain Britain, Peregrine and Guillotine got interchangable cameo lines only but the rest of the "champion teams of Europe" were there in mostly namedrop only. Sigh. Their most impressive part of this victory (commandeering the HYDRA fleet) was between issues. We didn't even get to see the God of War do his 'war thing'.
Finally, we did get an 180 spin with an epilogue update about Cannonball which is oddball enough to promise a refreshing change of pace that may literally end up out of this world. Just check out the HILARIOUS homage cover in two issues here:
http://comicboards.com/php/show.php?msg=avengers-2017081202102724
Was this issue good enough for you?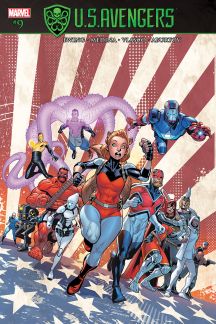 ---
Support Cancer Research and Alzheimer Research.