Despicable Deadpool 293 (2018)
Nice stuff about it:
-perfect cover.
-fun recap.
-the wonderful clean art! Rogue's eyes never looked greener. And no gratuitous gore.
-Secret Empire is not forgotten. Well, aesthetically maybe it should be but it was a BIG Event and did happen, so it's important at LEAST one MU title offers more follow up details.
-just 'cuz SHIELD is kaput doesn't mean Helicarriers disappeared. Wade's graphitti on it is hilarious. It's kinda funny that he bought one but not sure how clear it is that the fugitive is cruising the NYC skyline. Anybody? He is upset the the cops ignore him but refuses to be arrested? Anybody?
-Rogue responds as a concerned superhero and friend (presumably in official Unity Squad capacity and before NO SURRENDER Event).
-small detail of Rogue getting her new hairdo noted (sooo, NO SURRENDER wasn't just artistic interpretation).
-"I GOTTA BOUNCE" sitch/image/pun was awesome.
-Rogue's mission/'tude felt spot on.
-choosing fish over pillows was thematically funny (even though you have to ignore the trope that a superhero casually destroys public property needlessly).
-their conversation. It covered the plotlines in the title and even their infamous "kiss" in Uncanny Avengers while fighting Red Skull. She categorically states they are not a "thing" which gives her mini series with Gambit more credence (if not palatability).
-care for Ellie is not forgotten.
-DP neatly exploits Rogue's weakness with her sight to get away.
-trope is avoided and the hero doesn't just let the bad guy get away 'cuz she is asked to step aside to allow for the suprise last page guest star take over... CAP! This current contrived nomad existence and woefully vague standing among the Avengers community is still frustrating. Cap's title is just filler adventures since S.E. (even though they're enjoyable enough). But hey, it's Real Cap! He's back! Looking forward to Steve talking to Wade more than fighting him at this point.
-crazy overthetop DP can be offputting in mainstream serials. And writer to writer transition interpretation of the character is often wanting but Wade seems pretty consistent since the idiot killed Coulson. Wade's "insanity" felt tame and organic, THIS ISH, which is good. Although, it feels off that he is still considering to kill Evan for Stryfe.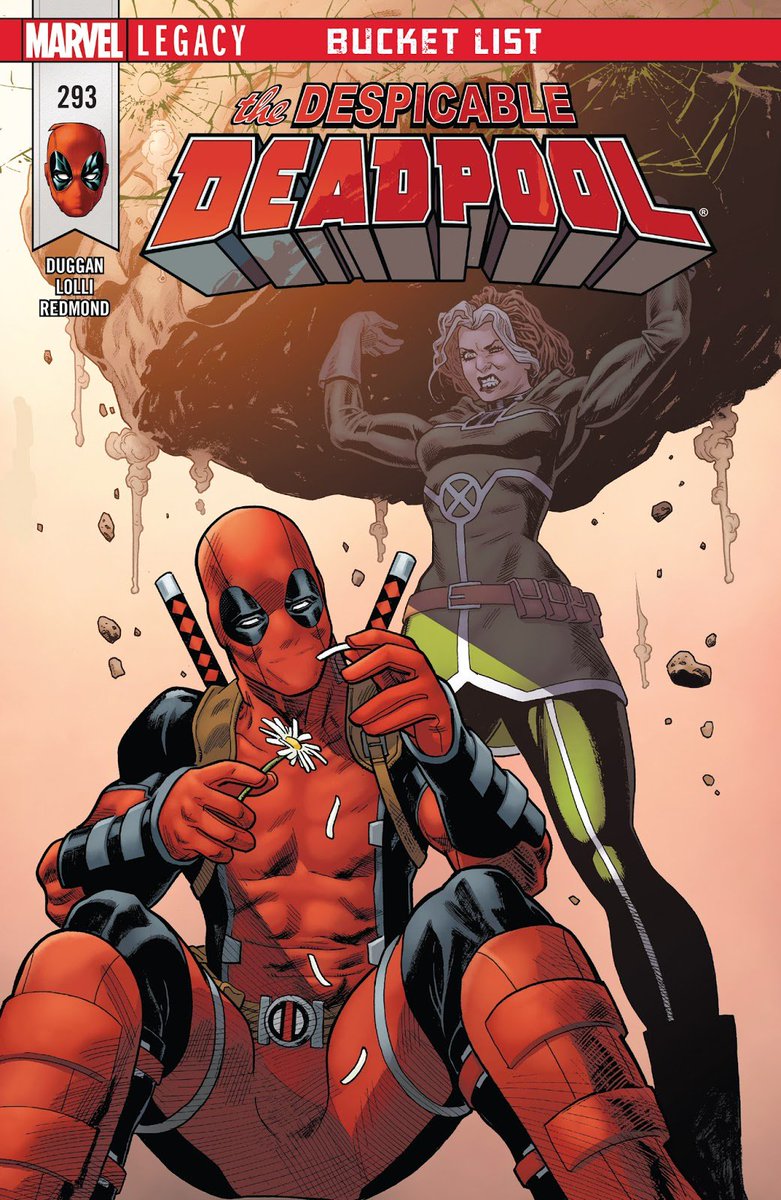 PREVIEW SOURCE:
https://comicstore.marvel.com/Despicable-Deadpool-2017-293/digital-comic/47140
---
Support Cancer Research and Alzheimer Research.