Captain America - Sam Wilson 023 (2017)
A meaningless cover. First 2 pages are wasteful recap rehash. But overall, a decent chapter in an ugly Event.
Sam's literal underground railway is an actual subway, helps ANY American secretly cross the border, is properly codenamed THE SECRET ESCAPE ROUTE, and the transport method references/footnotes of the long-forgotten, now-revisited, NIGHT PEOPLE OF ZERO STREET. Plus a flashback cameo of D-Man and Dr.Strange is added to the origin of all this. For this commute, Sam reluctantly joins the Avengers line-up that leads directly into this week's Secret Empire. It a would've been a good thing to footnote.
They cross thru Mole Man territory and have 2 boring big battles in generally as many pages. These 6 Avengers easily handle underground monsters and HYDRA
dreadnaughts
. Too easy (in the name of a rushed pace to get to Ultron City). Mole Man's chronology is predictably frustrating. His hatred of HYDRA is curious but random; his unmoving/underwhelming indifference is predictable but uneven/unconvincing here. Nice splash page appearance, though.
A few tidbits to note: Sam's new generic uniform (and lack of codename) are bland. An origin behind them would've added color. But that is surely not going to happen. There's Easter Egg props to the Fargo TV series and Hawley. And at the end, TAI and Sam get into some childish bickering that we also see in Secret Empire
#4
. And the last page surpise elsewhere(Ultron City) cameo of Pymtron is ruined if you didn't know to read this first.
https://previewsworld.com/Catalog/APR170953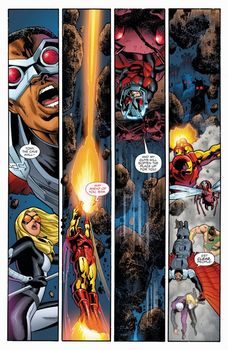 ---
Support Cancer Research. Support Alzheimer Research.