Royals 006 (2017)
What the deuce?! They're on to their 2nd mission? So, Noh lured 'em to the -literally- shattered world of Hala to save the Inhuman race/legacy and he JUST plants a alt-dimension seed to rebirth their overbearing science daddys, the Kree? Then The Royals, indifferent and/or forgiving, asked Noh to tag along again on what is basically the same mission, to save The Inhumans right to propogate? At least this time, the crew know the true goal, which is to aquire Primagen which is the original bio-magical mixer predating Terrigen.
Not a lot of love for The Inhumans here at the FFMB, eh? This installment was better than the end of the first arc but overall, JUST AVERAGE. The themed prologue into the future was interesting and beautiful in the first issue and has been nothing but boring for the next 5 issues since. This time we meet THE RIDER the mystery human travelling companion - that apparently trips and dies - so much for that guessing game. (He most likely didn't though.) This pages-hungry story device has given nothing other than JUST spoiling who will survive: Max and Noh and Plex, who will fight the Royals and survive: The Progenitors, and now THE RIDER wild card.
Welcome cover tease.
Finally Crystal and Ronan have a sincere dialogue as they part ways.
Medusa smashes Maximus' head to the wall as satisfyingly as anytime Al Bundy did the same to Kelly's goon dates.
We get new update status for the brides of Black Bolt and the
http://marvel.wikia.com/wiki/Universal_Inhumans_
(Earth-616)
=Earth's Inhumans - Queen Medusa
=Centaurians - Matriarch Oola Udonta
=Badoon - Queen Aladi Ko Eke
=Kymellians - First Chair Onomi Whitemane
=Dire Wraiths - Goddess Avoe
Also hear from
Midnight Blade and his
http://marvel.wikia.com/wiki/Light_Brigade_
(Earth-616)
It's all important info mixed with recap but is pretty dry reading until Gorgon and Blackmane are ambushed and downed, at the end, by
The Snarks (from forgotten Power Pack lore of old)
!
Did you have ANY love for Medusa and The Royals?
If not then how 'bout that IRL Lorde and her Royals (that catchy, great, earworming song!)?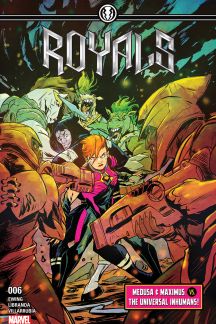 ---
Support Cancer Research and Alzheimer Research.