Black Bolt 005 (2017)
= Symbolic cover is evocative.
= Not a fan of either artist's work here. This artwork (since ish#1) could kill the series. SIDEBAR: Does anyone have Diamond Sales Numbers for this run so far?
= Recap Page states The Jailer meant to finally kill Creel and BB which was not really a certainty that he was not just LYING and would resurrect them again. This is probably an inappropriate claim for the Recap Page - especially given the fact that The Jailer did in fact resurrect Creel.
= 4 page History of Lockjaw in freeze-fame, Nuff-Said moments from his POV. So, now we know: he appears to have been the only successfully birthed dog with natural teleport ability inheritted from a dog of similar breed that was experimentally transformed by Terrigen. He had grown almost to full size when presented to the baby Black Bolt bonding with him almost instantly... Waitaminnit, he was originally Black Bolt's pet and not Crystal's? Lockjaw was at BB's side through all his adventures... right up to the point before issue #1 where he detected that Maximus has switched places with the King. SIDEBAR: Are you happy with this final reveal of the "Inhuman Dog's" -rather tame- origin?
= ONLY an obscured image of Reed and no sign of Sue in that origin montage. Rodney Dangerfield gets more respect than the FF now.
= Cue the Present. Lockjaw has been tracking his master since issue #1. Probably to the surprise of every Inhuman (even The Unseen). And yet somehow Lockjaw is able to convey the danger status of The Royals. The story picks up at the rescue last ish. BB is taken to an asteroid where he can reenergize to full power with rest and literal reenergizing from the galactic atmosphere. This seems a new showing.
= BB decides to help his fellow endangered inmates before his capable cousins. Seems the heroic choice - especially given that he (unavoidably) ditched Creel for his narrow strategic escape.
= BB shields up to protect against the dampeners. Lockjaw and him make a heartwarming rescue of Creel first where he shield Creel so his absorbing powers kick in. He's back to being the "Silent King" which is good. SIDEBAR: Recently discovered he was called the "Silent King" when he guest starred in Captain Marvel #53 in 1977! Was that title ever used earlier than that?
= The trio somehow avoid detection to capture Spyder and then BB easily shields the rest of his inmates cast. All of a sudden the prison seems less tough... until Sypder slips away and launches prison defenses at the inmates. The battle chorography is horrible - and what makes it worse is that poor Lockjaw is shot and felled by that scumbag space Spyder. The defenses are no match for the inmates with powers and it looks like Spyder is quickly recaptured.
= From here the inmates commandeer the control room of The Prisoner and learn the very confusing truth of The Prison. CAN SOMEONE EXPLAIN HOW THEY SEE IT? It looooks like that centuries ago some Inhuman made this
Phantom Zone
Secret Prison to house THE PRISONER who eventually took over as THE JAILER and the place lapsed into obsurity for some reason. And yet as the inmates learn these apparent 'facts' on the monitors, they each see different visions? ghosts? added defenses? It looks like BB is witness to all the people his voice has killed approaching him. Maybe the defenses are still active and this is just psychic vampire power of The Jailer that gets through BB's shielding?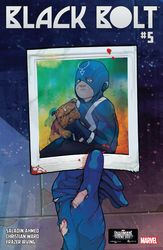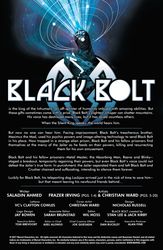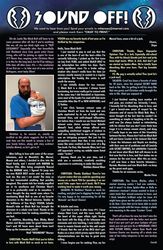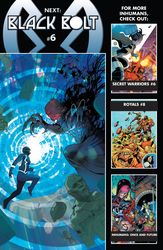 ---
Support Cancer Research and Alzheimer Research.