Justice League of America 023 (2018)
Preface this by saying this is my first JLA book in 2 arcs. Missed Part 1 so take this post about Part 2 with a grain of salt. The main reason for picking it up was the
BIG SURPRISE
SPOILER reveal of who appears (and unfortunately it wasn't until the last page). PROMETHEA!
https://en.wikipedia.org/wiki/Promethea
It will be interesting to see how she does compared to Angela who was the last alt-imprint high profile character bought by Marvel and pigeon-holed into their mainstream. Promethea was under America's Best Comics, a Wildstorm imprint then Wildstorm got bought by DC, afaik.
Here is a funny webtoon posted (artist unknown) by someone predicting Alan Moore's reaction Wednesday when she hit the stands again (simultaneously with
Doomsday Clock #3
).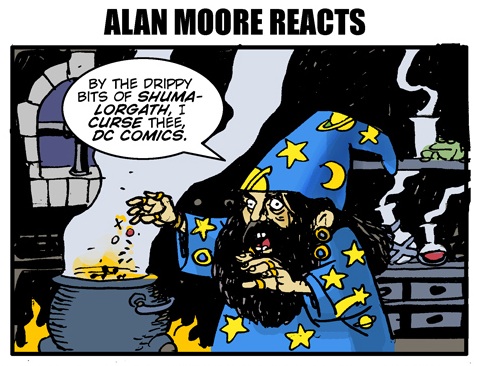 As for the adventure (sans Batman) it was a fairly underwhelming calvary time escape by the team captured by this new psycho supervillainess, TSARITSA. She does have a visually interesting look. In an sidestory it looks like Ray is bringing Vixen back to life.
Couple questions:
Does the flashback origin on page one happen Dawn of History or ages before that? It sounds like the latter but looks like the former(dawn of recorded history as in the Middle Ages?). Started the story off on a confusing foot.
Where is City of Vanity in the DCU?
How many copied concepts of Caitlin Snow, as Killer Frost, are there from the Flash TV series? WHET to Crystal Frost from Firestorm #3 (June 1978)? She was interesting in the SS/JLA crossover when she joined but here she seems unheroically... mopey. Have to catch up on her storyline to judge this showing...
How did Vixen die?
Aztek is a girl now? What happened to Curt?
What is that blue spit-like stuff coming from Lobo's mouth for a couple panels?? And he's bitin' faces now??
Is this the same writer doing Supergirl? Is that series better to retry?
Any thoughts regarding Promethea's chances with her rebirth in the DCU?
https://www.hollywoodreporter.com/heat-vision/how-alan-moores-promethea-met-dcs-justice-league-america-1077715
---
Support Cancer Research and Alzheimer Research.