Black Bolt 009 (2018)
So, what's TMB think of Odinson and Cap attending Absorbing Man's funeral? Attending his funeral populated by the wanted criminals, The Wrecking Crew, and letting them slide by? Titania's current criminal record is unclear. Both "ex-Avengers" independently got the heads up of supervillain gathering and went alone *hmmph* - of course FBI and CIA are probably chasing their tails. So, now the question is what write will bring Ab'Man back to life and how soon do Thor fans want it?
The cover is beautiful but sadly MEANINGLESS other than Steve and Black Bolt meet. Does anyone here like the art?! Okay, the few panels of Mary in that dress looked nice and you can feel
that one punch
. As for the story, it was a quite touching tribute to Crusher Creel through the eyes of the engaging Mary's eyes and Blinky's telepathic memory recall. Hopefully Titania gets involved
next issue
to save Blinky 'cuz her charactertization was entertaining. BB didn't really do much other than mourn quietly - in his own book.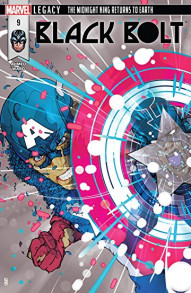 ---
Support Cancer Research and Alzheimer Research.