Jean Grey 004 (2017)
Didn't like
last issue
Jean Grey story at all. So, didn't even post here about it - nobody else did either. It was pretty good as a Namor tale, though. This issue was the same. Same sloppy direction, same messy characterization, and same leary future for the title. The art was pretty good, though. Having a BIG NAME guest star again is fun but also reminds me how boringly empty the non-existant dedicated supporting cast is.
Here's some PBP reactions to compare if you read it...
-Grabber cover!!!
-HOW HOW HOW did she get here? Just like LAST ISSUE with her suddenly appearing under the ocean! Bah. Is that the whole point of Pickles cameo (hidden?) in her backpack? He 'ported her here (but nb. surely not underwater last time)? Really, why bother with him here? He is treated like a NON-supporting cast. He's merely a weak plot device method of travel that can't even 'port up the side of a mountain. His removed connection to Kurt and his ignored bamf brothers is just a gnawing dangler. And can't help but nitpick his absence in Xmen Blue - or are we supposed to believe Jean commutes or calls with The Mansion everytime -and only when- she has to go solo somewhere? Bah.
-Speaking of climbing a mountain - where's the danger/drama here? Teen Jean has TK levitation abilities!
-She calls herself 'not a slayer'?? That's self-delusional if they're not even going to footnote the very last issue slaying. Sheesh. Sidebar: Remind me if she clearly has or has not been seen killing any battle fodder before this?
-All the Asgardian and orcish dialogue was fun. Interesting -and rightful- detail added with the orcs calling him Thor and not Odinson since that's what the Thorverse titles have long since been pushing down readers throats.
-Too bad we couldn't get true images in Thor's understandable tall tale of Avengers #1. The image was so cool and it would have been cooler to reimagine an actual after panel scene of Loki's attack. Remind me - those giant dinobeasts weren't really involved right?
-The dialogue of this time tossed teen felt so uneven. Example: it seems "HOLY HELL" was an attempt at teen PC script but then she oddly changes to "HOLY GOD" then to childish "THANK CRAP" followed by tough girl wannabe "SNAP THE HELL OUT OF IT"??
-Uhhhm... if she doubled back then how'd she get up to the summit (and in timely fashion)?? To a DESERTED Asgardian Inn - with modern American PLUMBING??
-Intros of LANA and LAVADON were at least something... (probably throwaways
).
-She doesn't know about Mjolnir and then she's done. No-Prize reason: is that she's flustered meeting an A-List Hero under scary circumstances. Fine. But she's acting like a quivering newbie and she shouldn't have made this a solo trek. Remind me: did she ever share a back issue panel with Thor before being flung into the future - not that this story would think of slowing the story pace down with that potentially significant detail. And IT IS significant because WHY would she choose HIM (under so many circumstances) as her Warrior Training Coach?!
-"CRUSING FOR A BRUISING."?? For a throat tattoo?? Really??
-"TASTE OF LOKI'S HAIR.?? Really?? And, ewww!
-And then there it is, the point of the issue: The (implied) origin of her ability (unconscious only at this point) to manifest a psionic weapon ala Quire or Psylocke. *shakes head not sure how to react* Wow? Meh? Ooo? Sigh? Makes sense? So what?
-Sooo... the killing of sooo many orcs is meaningless to her? Sheesh. Surely, Thor killed a percentage in his attacks and probably a bunch were just knocked out. But it is a serious storytelling mistake not to reveal reaction or accountability of Jean in those deaths!
-She can't replicate the psi-Hammer. Go figure. Probably telegraphing the climax moment vs The Phoenix (which can't come and go soon enough). Are we to believe she will only be going with the Harley Quinn wannabe weapon of choice for no reason or for inspired by The Unworthy reason?? Hmmph.
-Happy ending. Turns out a pretty good Thor story but a unsatisfying Jean story just like last time. This ish had too many marks against it INCLUDING, literally, too many FRECKLES. Freckles can be cute and if they continue to retcon them on her face then fine but, c'mon, they're unrealistically slapping them all over her face which feels... off. Is this to be a distinctive/distractive difference between our true timeline RIP Jean??
Still collecting? What marks do YOU give this?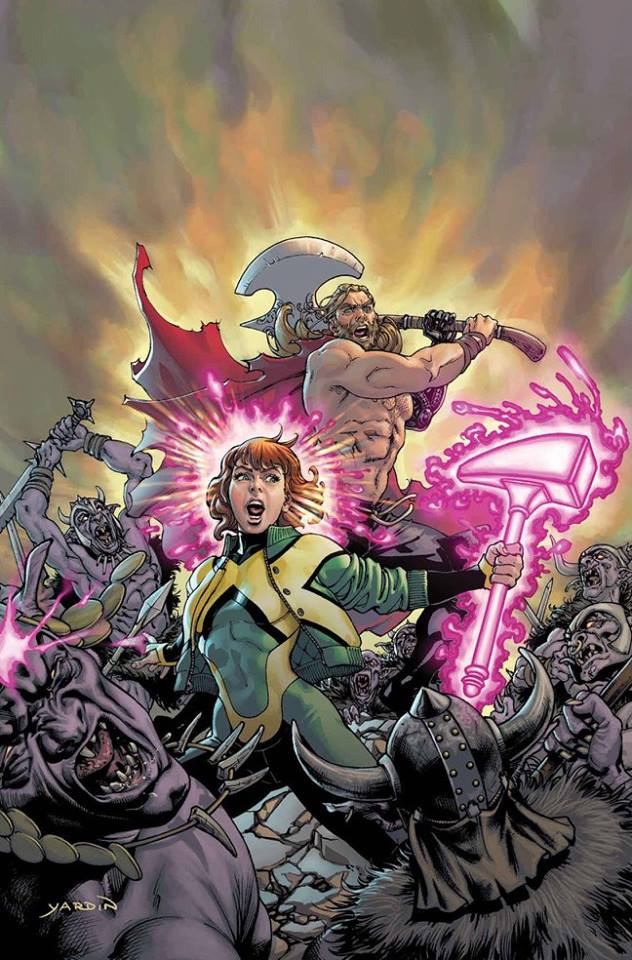 ---
Support Cancer Research. Support Alzheimer Research.