Jean Grey 006 (2017)
That. Is not. Jean Grey. Argh.
No, not "Teen Jeen". The other one. The "real" Jean Grey. Or, that is, the returning guest spirit who finally reveals itself as the soul sentience of Jean Marvel Girl/Phoenix Grey. Plus, it seems fair to consider that technically The Phoenix was not mentioned in ULTIMATES #100 Survivors List so this isn't classic 616-Jean but quite possibly the Universe 8/Earth PRIME *koff* version of her. Hmmph.
The writer tells us it's her. Dr.Strange tells us it's her. And Jeen tells us it's her. It was impossible to believe any of them while reading. It did not act like her. Even ifff she was in that much (uncertain) TORMENT in her afterlife existence, it seems so unlikely she would impose such a tormented lesson in torment, in this particular and convoluted fashion on any living soul. Ugh.
The whole psi-plane journey through 616-Jean's replayed X-history read like retcontaminated rubbish. First of all can anyone cite actual back issue corresponding panels with the birthday party? The roided punch bros battle? The catfight with Morrison's Emma Frost? It was infuriating how each replay got off track because Jeen ended up psi-interfering with how things would have 'really' happened. Bah.
"So what, 616-Jean? The devil IS NOT in the details but in Jeen's emotional response to your vanity plays? Then why does your expression how you felt to be an misunderstood brooding Omega Level at your party read like such a lie?" Sheesh.
Was ENDSONG a good mini? Never read it. Is it accepted across the board that it was 616-Jean? Was she just spirit or did she gain corporeal form? How did she act there? Anything as mean as in this ish? Can anyone list all the issues we've seen the apparent spirit of Jean Grey (not Phoenix Force) since?
This was a bad read.
The ongoing Phoenixprep Quest feels neverending. The art was take it or leave it but the facial expressions and coot demeanor of magick-lite Dr. Strange was cartoonish farce. Not even mentioning consult with Yana or Young Hank was annoying. Not to mention her ongoing Laissez-faire commute between NYC and Madripoor homes. And what?! The whole point of this "lesson" was for 616-Jean to convince Teen-Jean that her name is JEAN???!!! Or more accurately/seriously that "JEAN GREY IS JEAN GREY IS JEAN GREY"? Uuuuuhm... well, that should be an easy A!
C'mon, accurately/seriously?! To make matters worse 616 ain't just a substitute teacher - she's coming back! Of course, if it turns out to NOT be the spirit of Jean Grey then this might prove be more bearable - if the series isn't cancelled before that.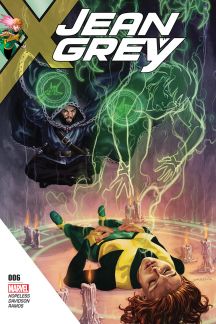 ---
Support Cancer Research and Alzheimer Research.