PageByPage
Phoenixplayer By Phoenixpage to compare...
Jean Grey 009 (2018)
On the plus side, all the Phoenix Crapquest comes to a head - literally in TeenJean's head. Also, the key Phoenixdiscards are allowed to interact on the Phoenixmatters - in spite of being long, long, long, overdue plotline relevant. In fact there was some decent banter that led up to the exciting conclusion and set up for Phoenixclash next ish - which is cleverly named "FIREFIGHT". It's not like this Phoenixcrisis hasn't been blatantly forecast for months, months, months - not that anyone besides TeenJean in the MU saw it coming. (*koff* Well, except maybe Hope.) Next we will see if the wise words or monthly Phoenixmarketing of Namor, Odinson, Wanda, & Strange even factor in - not that their superpowers were even considered to call in to help. (*koff* Uhh, remember AvX prep, Heroes?)
00 Beautiful cover. But can somebody make heads or tales of the surreal Phoenixmerged statue w/Jeen? Ended up wasting 5 minutes staring at it to try'n figure it out.
RECAP PAGE "Ripped from THE past along with four others...". Hmmph. Does this month's X-men Blue mean implicate that it will remain worded "THE past" instead of "AN ALTERNATE past"? And WHY can't Marvel give any proper continuity placement between these 2 books? Sigh. BTW, were we told last issue why Emma was at the Central Park HQ?
01-02 GhostJean and Emma are talking to each! That's big. Emma is aware of her presence and matter of factly discussing last issue's brainjacking. TeenJean is in a coma 'cuz she couldn't even handle a SLIVER of the PF. Eep. That doesn't bode well after 9 issues+ of Phoenixstalling. And to be fair to the readers they really should have been clearer that it was PSYCHIC fire and not physical burning.
03 If this is the sentience that is the true sole of the returned RealJean (for Xmen Red) then PANEL#1 give her an out for her spectacularly crappy personality as a ghost. Also, that one surgical resident will certainly wash out if the first diagnosis from unresponsiveness is that the patient is a mutant.
04-06 PSYCHIC fire sets off the sprinklers??! Huh. (Easy to No-Prize but still...) Omega Level telepath has to leave the Phoenixjeen danger for a simple hypnotism to get a chopper on the roof??! Huh. (Easy to No-Prize but still...) GhostJean can't handle a Phoenixsliver? Okay, that makes some sense otherwise she'd have done it already. Where's teleporter Pickles and sole supporting cast member when you need him??!
This constructive criticism might sound mocking but this scene was okay... Hospital better than the X-Medbay?
07-08 OOOOOH brother! It's HOOOOOPE! The one-time Phoenixwannabe. The PSI-MITAR??! That's it? That's ALL the continuity footnote we get? No personal update (2 years+) since Incursion? Since M-Plauge? No Meme? No X-men contact? No map placement? No Cable connection? No Phoenixtracking deets?
09-11 Friendly makenice conversation between GhostJeean and Emma. Guess they won't be adversaries for Xmen Red. Reader friendly and appropriate footnotes to ANX, AvX and "the affair". Yay. Emma given back some of her colorful complex character that Secret Empire took from her.
12-15 So, Emma thinks mindmerging 3 Cuckoos (no longer Stepfords?) and a Westchester field is ALL that is needed for a Phoenixfix. Hmm... hmm... hmm...
16 Enter: Quentin Phoenixfuture. A very good page, exciting PANEL#5. Suddenly showing up with a sandwich instead of ship is a bit contrived, though. BTW, how far is Central Park HQ from Westchester County?
17-19 Quentin props. Hope here. Big sillytoys. Jeen recovered. Players gathered. Psilink facepalm. Phoenixwarnings realized.
20 Phoenix! Burn, babybird, burn!
Your Phoenixfeedback? What do you expect from this "PSYCH WARS"?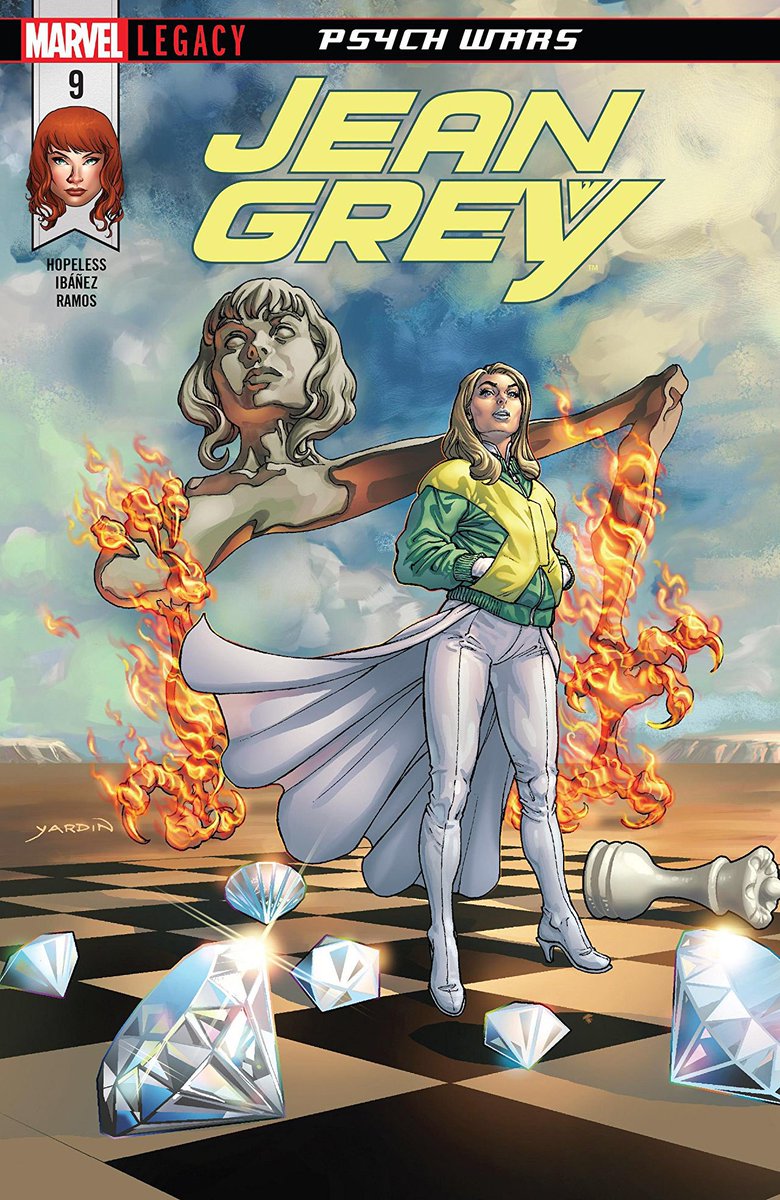 ---
Support Cancer Research and Alzheimer Research.