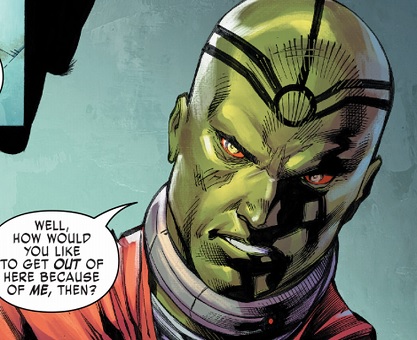 Today's book to mind...
X-Men Gold 021 (2018)
Okay, this was bearable (for a change of late). Yeah, it's a bit offputting that the return of the Real Xavier in Astonishing timeline hasn't synched up yet with X-books. And seeeems sloppy that the Real Pyro was implied to have returned in pages of Iceman but this one is clearly different (and better that way). Maybe a NO-PRZE reason could be that Mesmero was off panel in that book and made Bobby think it was the real McCoy... err "St. John Allerdyce"... whatever. Hmm.. also more evidence for seeds of subplot of mutants evolving into sub-species like wolverines, banshees(see Xmen Red), pyros, etc OR Bullpen just cranking out uninspired copycat new mutants. Anyways, The Brotherhood make a half decent escape - ignoring that The Box should have non-psionic redundancy backup security shut downs.
Then OML gets whiney and skidaddles. Feels off since his worse day is still better than most others' at the Mansion for security. On the plus side - it's good
inferrence
(sadly not footnoted) to synch up with him going off to meet Scarlet Samurai and fight Maestro and whatever other comic book recent guest appearances he has. Spot on Storm scene too.
Prestige's storyline kicks into gear. Whereever that happy hound-mode's headed. Undecided about Kitty and Kurt dealing with the sitch. But it's all roll call characterization which is needed.
Mesmero's revenge for Lydia followed by Amara's revenge for him is pretty standard stuff but better a solid story adventure than a nitpickable one. Well, was Kitty thinking of NOT going into a battle against Mez with a TP if Rache never forced herself on board? That would've been DUMB. As it is, the big cliche-heroes-lose-first-round fight she lead the team on was a big FAIL for her battle decisions and she is so lucky for the no-one-ever-gets-hurt trope. For one thing it would have made much more sense to have Kurt bamf away Nance and let Storm deal with The Brotherhood and/or crowd's safety!
Good cover. Too bad it's not boards instead of dirt flying. Also, a shame that it accurately reflect how much Colossus has lost his edge since his skin has gone all smooth (pun intended).
SOURCE:
https://comicstore.marvel.com/X-Men-Gold-2017-21/digital-comic/47274
---
Support Cancer Research and Alzheimer Research.