Cable 154 (2018)
Well, isn't that convenient. Not to mention the oft-repeated oft-annoying fail for this Cable's character concept. The influence of Gideon (or lack thereof) over the next 13 years (or 'til 54th century) seems like it would've been a big thing to notice and not a little thing.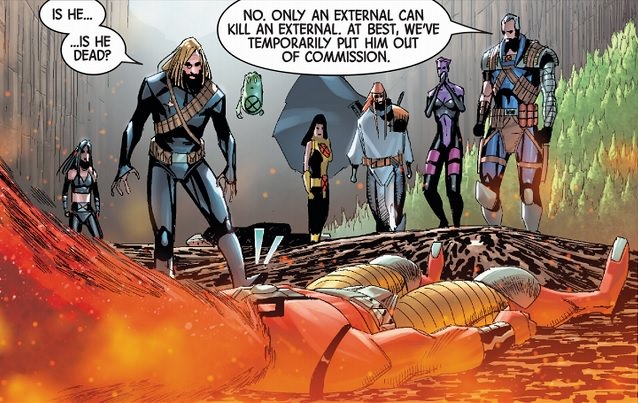 So, Cable can be the good guy and still use both barrels against an External since he can't kill them. Huh. Hard to imagine but whatever if that's the plot device readers are limited to then wasn't it a little irreprehensible that the way Cable planned (all along?) was to traumatize Blink by provoking her to DECAPITATE the enemy?
Here we go again. How many times and back issue stories would have personal access to a future prison cell come in handy for properly dealing with various X-villains, not to mention any supervillain?
Remind me what Selene does with Blink during X-Necroshia?
Were there not many introductory backissues of Armor trying to master the basics of her power compared to her high end group shield showing here?
What was the point of that needlessly stretched out 2 page epilogue birth and eyeball close up?
Was anyone else unsatisfied with this whole arc? Although, it does address some External danglers, eh.
Totally symbolic cover - needlessly so.
---
Support Cancer Research and Alzheimer Research.