This was not my cup of iced tea...
Iceman 010 (2018)
Michaela is given a lot of spotlight and ridiculously adept in a supervillain attack. Her and Jerk Zach clash and she scores a more impressive and decisive victory. She wins with a flick to his ear. *koff*
Righteous Idie and Boyfriend Judah are the other bottom-tier players to round out the main cast. Oh wait, there's a bunch of Generation X cast cameoing in the Danger Room doing busywork. "Busyworkout"? Yawn. It's sad how, too often, if a Panic Room routine is not mentioned when The Mansion is destructively attacked that the reader has to assume the entire campus population must be off campus for a story convenience fail.
The Iceman and Daken clash is extra visceral with extra claws. It's this intense battle that's the takeaway from the ish. He wins, essentially, by giving him a kiss. *koff*
Argh! Look, it's Omega Level Iceman's new lazy and crazy tactic, used as story crutch to fall back on, of summoning a 2 dozen Snowmen Army. Bah!
A Death Seed [or is it THE Death Seed?] is conveniently to blame for Daken's particularly bad [and murderous evil] mood this arc. He's been like a different character to the concurrently published ANW run. Does this story happen before or after Laura's book? Both titles sadly seem to just ignore the other.
Zach doesn't get arrested; he gets a dampener to wear. The Faculty's way of slapping his wrist for almost getting everyone killed. *rolls eyes*
The Gold Team show up afterwards for one panel to be seen on ice clean up duty. Cheap cameo showing. Hmmph. If Marvel is so (distastefully) determined to keep Bobby as the cross between Jack Frost and Madrox who can animate ice - why can't he just animate all that leftover ice to 'clean itself up'? [Hmmm... WEHT Jack Frost?] There were THREE letters pages! And one of the replies to Nathan L sort of tried to sort of address this.
https://kek.gg/i/695Wtj.jpg
And finally Kitty stops giving Bobby a cold shoulder (which she should never have stooped to) and Judah ends up dumping him (which seemed Editorially forced). Iceman loses his book with Final Issue #11 but gets his own X-Team as Kitty promises. Hmmph, he makes out Even Steven just like Seinfeld did.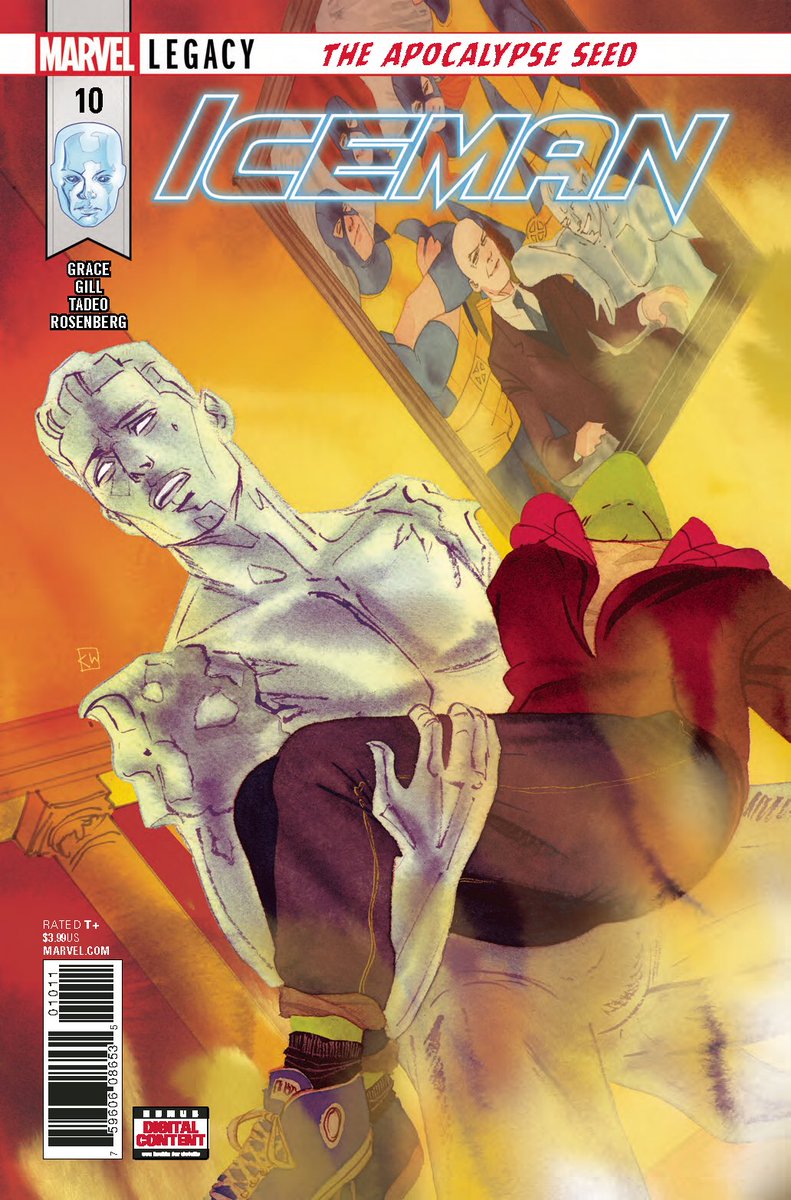 ---
Support Cancer Research and Alzheimer Research.