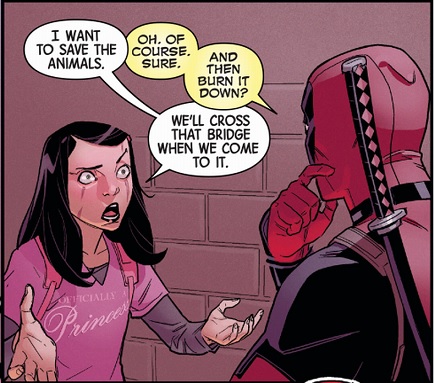 Is Officially A Princess an IRL t-shirt or just a perfect new idea choice for Gabby who really deserved and should've been given a cover spot too!
All-New Wolverine 031
This was a fun read!
It totally ignores Deadpool's chronology and character development and he ends up a lazy bloody-tongue-in-stabbed-cheek caricature of himself.
On the other hand, this was a fun read.
Every time Marvel finds a way to give 'dumb' animals real speech in some clever pseudo-science way it sets a horrible precident to maintain and sell. Also, like Jonathon, too often their thought patterns are too eloquent to accept.
On the other hand, this was a fun read.
Gabby is (becoming) more and more a darker character for teeny bopper Black Comedy effect (ala Hit-Girl) which really sends a mixed message to glorify and respect a 'Bugs Bunny violence and destruction is okey dokey' lifestyle. It's sort of depressing that her current direction is proceeding to reach those extremes. Sadly, akin to when Gwenpool just was introduced with ammoral rationalization for her totally criminal behavior - entertaingly presented.
On the other hand, this was spot-on entertaining again. She had MANY good lines this ish (even if some were technicallyy 'nasty') and made respectable Laura play second fiddle in her own book again.
Dr.Boreland was given a grizzly end and left to it however well deserved it was.
On the other hand, ZOMBIE BUNNIES!!! C'mon! They're so widdle and fluffy and cute! *nostalgically smiles at memory of Anya in Buffy the Vampire eps* PLUS, Zombie Wolverines, Squirrels, aa..nn..dd..ee..vv..ee..nn..aa..ss..ll..oo..thhh..!
Only a one-shot 'filler' story in hindsight.
On the other hand, a one-shot done right - and fun!
https://comicstore.marvel.com/All-New-Wolverine-2015-31/digital-comic/47314
---
Support Cancer Research and Alzheimer Research.