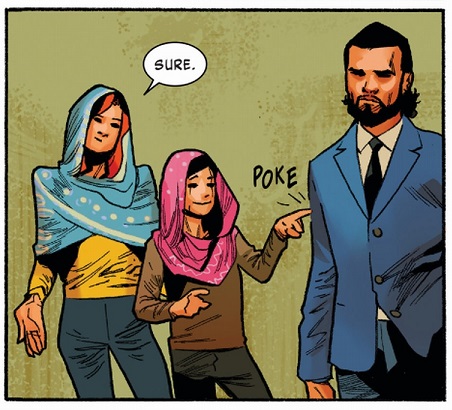 X-Men: Red 002 (2018)
Actually, it was a half-decent read. Of course, that's ignoring that readers still don't know why they're reading it - only the X-men know the details of their reimagined mobilizing mission statement to reform the people of the world. And of course there's the painfully predictable and terrifically trope cliffhanger of a Sentinels Attack! ...Must be Wednesday. The good of it was the characterization focus of the team, the remote locales, and the efficient infiltration tactics to free Trinary. Her and Gentle show up -in the present- and that helped the issue.
Jean. She's seems nice and compitent. A likable leader at the gate with a very impressive rescue showing of her telepathy. No 'back to life' followup or detailed dynamics/interaction with A-List characters was disappointing.
Kurt. He looks terrible in a beard! (Goatee? That may be more acceptable.) Has any other writer/artist interpretted him that way? He looks wrong on the cover for that reason - plus he didn't even deserve this pointless poser cover for this one. He was written safe here - which is not bad. Plus, he has a clear loyalty to Jean for readers to relate to.
Namor. Not there. This issue could've used some fiery personality.
Wolverine Laura. WHY? She might as well have not been there too. They should replace her with Ororo ASAP - especially if based in Wakanda now. Hmm... how long before somebody even mention Storm's name given the locale. Will the book break dumb tradition and make the shared universe chronology with the BP books more reader friendly?
Gabby.
Awesome. Her shining character was missing in the premiere but her bubbling personality and one-liner finesse from the ANW series has arrived in this title. Not a bad scene here. She bumped up the issue's rating.
Trinary. Technopath. Hmm. Reserving judgement. Although, it was good to finally meet her and she does have a servicable pseudo-origin going on. Lakshay Singh is not a very dynamic antagonist (as of yet) but he helps make her interesting enough so far. Hopefully she doesn't turn out to be a cheap mutant knock off of Viv Vision or Misty Knight.
Gentle. As strong as The Hulk?! Really? What was his best showing so far? More interested in him than Trinary at this point. It was a bit disappointing there wasn't some pretense to include him on the rescue mission. Instead all we get was him literally sitting around.
Wolverine Logan. Wolverine?! Gimmick cameo. Sigh. He leaves his friends to deal with the trouble themselves so he can go off to the Infinity Countdown no doubt.
Gambit. Next issue star?! Sheesh. *shakes head*
https://comicstore.marvel.com/X-Men-Red-2018-2/digital-comic/47489
---
Support Cancer Research and Alzheimer Research.