Avengers 681 (2018)
Oh snap! It's good again. Last ish must've been a blip. 'Course all these new line-up solicits just drudge up all the initial trepidations that this'll all be reset and basically ("Holodeck-esquely") pointless. Whatever. Enjoyed the read, today, very much. No need to het the Back Button if you want the more PBP reactions to compare yours...
00 Beautiful cover. Annoyingly poser-esque.
Almost
meaningless.
RECAP- Ahhhh... it's the PYRAMOIDS causing the elemental havoc all along. Capturing them turns 'em off. More contrivance that only 2 are in play at a time and the 2 teams are tasked to split their forces.
ROLLCALL- Liking this themed bonus page.
01
-Homonym name like Mar-Vell. Neat. Like his POV thought narration.
-Cool use of known races and acceptable origin brief for the Lethal Legion for The Game.
-Kind of downplays the significant current changes to the Kree Empire.
02-03
-
Glori
ous double splash fight (pun unintended).
-Impressive Voodoo and Wasp attacks. Not liking the Citizen V flamefeet flight.
-Is Sunny-bee Gas Station a IRL thing?
04
-More Jan props. Seemlessly slipped in, in time for some collateral hype for her upcoming movie.
-More Voodoo props. Kind of be better to find out what those spirit snakes could really do, though.
05 More fun fight. Wanda must've been briefed in the field to be addressing "the new" Metal Master by name. Smart play by MM but it just craps on The Game setup more 'cuz it sounds like he doesn't even know the best way to claim a prize.
06-07 Rogue's turn. Whoa! It appears she MAY HAVE killed Glaive (based on what Proxima says later)! Feel her pain. Hmm... How will a 'real' death compare/last to a 'gamepiece' death? Excellent/precidented way to use her power to get Black Order origin brief for The Game. Ifff he did die or not - can't wait to see how aborbing his power will change her reportoire.
08 In the words of any European Football announcer: GOOOOOOOOAL! And the LL tie it up!
09-12
-What a sad entrance way to HQ.
-Ha. Toni repeated my comment about VOYAGER's name being appropriate.
-We get more origin and family details of VOYAGER. A GOOD thing. Also curious just how much details - ifff her 'retcon' is a sham. QUANTUM ENTANGLEMENT to explain her powers is intriguing at this point. Poor kid, she has a wonderfully, if typical, MU traumatic moment of empowerment.
-A nitpick: sooooo, all she needed for a recharge was rest for the timelength of a conversation?! Why not just find cover in New Mexico to rest faster and not deplete any in going off to regroup at HQ?! Is she stalling or playing The Avengers?
13 Mentacle vs Berto is nice showing for TP attack AND defense.
14 Glory vs Synapse is another AND DIFFERENT way of showing a TP attack AND defense. Good Falcon moment.
15 Falcon scores a save. (Anyone say if this is before or after Blackheart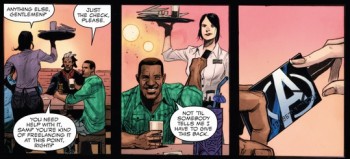 in his series?) Synapse proves, for like the 4th time here, that Grandmaster really gave The Avengers too much credit for figuring things out 'cuz basically all the members had to be TOLD about The Game.
16-18 More entertaining fighting mixed with helpful story exposition. Avengers picking up their game. Uhhh... did we know Simon could force field up an ionic barrier? Exciting teaser - calling in the mystery player mentioned earlier... will the LL break the tie...
19 Oooooh SNAP! Snap of the bowstring as it were. Great entrance. (Won't ruin the exciting pace by asking why he ain't frozen.)
20 Oooooh CRAP! It IS "Hulk". (As other posters had surmised.) Very interesting that maybe he didn't die in that nuke afterall? Or maybe it was the alt-Banner as questioned back then?
https://comicstore.marvel.com/Avengers-2016-681/digital-comic/47318
---
Support Cancer Research and Alzheimer Research.