Previous Post
Black Panther (2016-) Annual #1
http://marvel.wikia.com/wiki/Black_Panther_Annual_Vol_2_1
> Three legendary BLACK PANTHER writers return to Wakanda! Don McGregor's famous storyline "The Panther's Rage" has become one of the most well-respected runs in comic book history. Now, the author who redefined Wakanda for a generation is back to expand the mythos! Bearing the heart-shaped herb that defines the Panther legacy, King T'Challa leaves his beloved country for a heart-wrenching mission in the streets of New York. Then: For half a decade, comics legend Christopher Priest made his mark on the Panther. The acclaimed writer returns with an all-new story – and with it, of course, U.S. State Department employee Everett K. Ross! And finally, no Panther history would be complete without Reggie Hudlin, author of more than 50 Black Panther stories, including the famed "Who Is The Black Panther?" Don't miss the sequel to his "Black to the Future" story, featuring original artist Ken Lashley!
Kind of lost interest right off to learn it was all What Iffery with the title page but appreciate the clarification of being told with the title page. Just went thru the motions of reading all 3 alt-reality tales. Now wondering, WEHT to Monica Lynne in 'our' 616 reality? Otherwise it would be better to see your less ambivalent reviews posted here.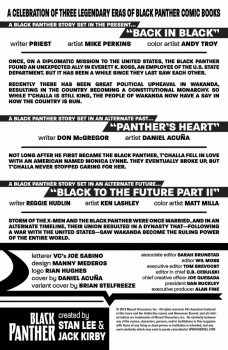 SOURCE of SCAN LINKS:
https://comicstore.marvel.com/Black-Panther-2016-Annual-1/digital-comic/47322
---
Support Cancer Research and Alzheimer Research.
My letter to Marvel after reading the Black Panther Annual 1
https://trueskoolradio.wordpress.com/2018/02/22/my-letter-to-marvel-comics-after-reading-the-black-panther-annual-1/