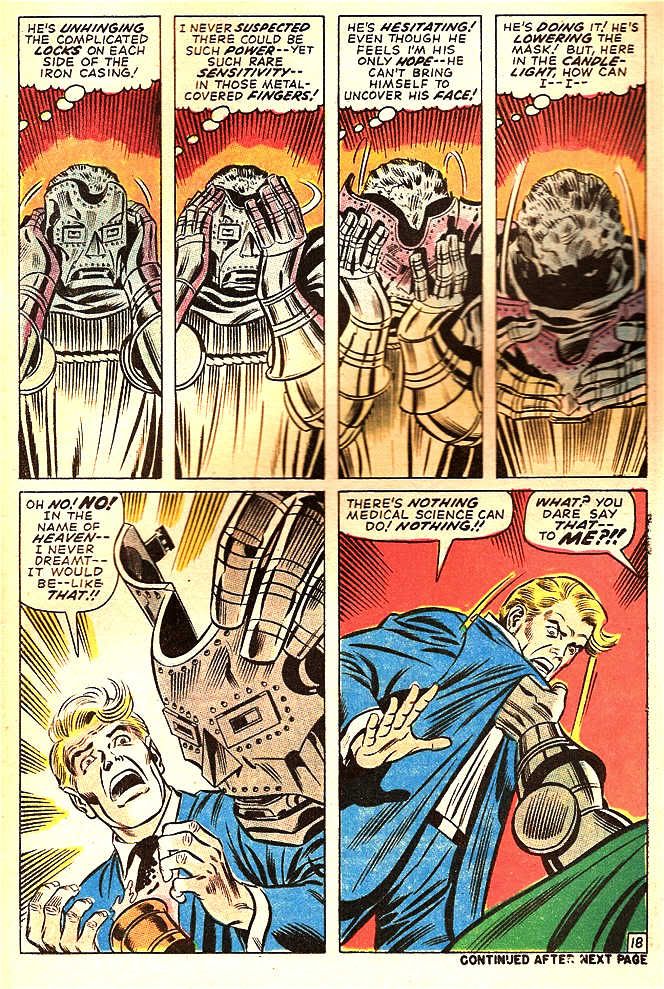 Quote:

But wasn't John Byrne's story the opposite? I remember him saying that the explosion just caused a little scar, but Victor was so upset over being "disfigured" that he later put his mask on when it was still hot, which caused the major damage.
Byrne did that to reconcile what Kirby was beginning to talk about at the early comic conventions.
In a scene that Jack Kirby drew in Fantastic Four #10 Doom stops by the Marvel Bullpen to visit Stan and Jack. While there, he takes off his mask and both of them are horrified. Stan later has a Thor story where Don Blake sees him without the mask after claiming to have a plastic surgery "fix". Don Blake practicallyscreams at the sight.
Jack Kirby later during convention appearances said he felt that Doom only had a tiny scar. Byrne's story tries to combine both ideas. But these were the memories implanted in Kristoff by the Doombots.
Dr Don Blake sure isn't very professional if that true or he was trolling Doom.