Anyone care to reminisce about...
Marvel Team-Up #124 Spider-Man & Beast

recap:
https://www.mycomicshop.com/comicbooks/item?IID=8636021
cover:
http://www.justafanboy.com/BronzeAgeXmen/img/mtu124.jpg
original cover:
http://comics.ha.com/common/view_item.php?Sale_No=817&Lot_No=6242&src=pr#Photo
reprint cover:
http://www.spiderfan.org/comics/images/marvel_tales/241.jpg
Story:
was a heart warming self contained adventure and character moment for the happy go lucky Beast of old.
Art:
was really good and was Kerry's work helped keep Power Man and Iron Fist on my pull list back then.
Spider-Man & Beast:
Fun to see the two in action together. Good teamwork saving Cody outside the Hotel Royal.
Mr&Mrs McCoy:
They came across as nice parents to have despite the plot prejudice they had to overcome. Edna(y'dont see too many Ednas in comics) was a real hero and her saving Hank was
the
memorable moment from that issue. It would be nice to see, in a current X-issue, Hank call his parents at least - if they still live.
Vera:
http://www.marvunapp.com/Appendix3/cantorvera.htm
Typo Gantor instead of Cantor in the story. Interesting dynamic to see Hank with a steady girl - wasnt familiar with her from the Coffee Shop years. She was a reserved contrast to the bouncing blue furry that babes swooned over in the pages of Avengers.
Professor Power:
http://www.marvunapp.com/Appendix3/professorpowerdef4.jpg
Interesting B or is it C-list villain introduced cosidering his power and influence and his reuse in a few subsequent stories. Looks like he's (presently) dead according to this link:
http://www.marveldirectory.com/individuals/p/professorpower.htm
Always wanted to see him connected Power Pack story in some way - might yet happen.
Aunt May and her cronies:
It was fun, back then, to see development with Spidey's supporting cast. Particularly Nathan who was May's first serious love interest contender IIRC. Remind if May still lives at this place in Queens post-BND and if Nathan is still alive.
Even Wolverine:
Nice footnote connection to the MTU117-118 tale involving a certain in demand for guest appearances -at least back then. Neat tidbit comparison of Mentallo to Professor X too!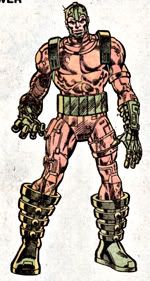 ---