Wow. Not one but TWO wow-inspiring calls for AVENGERS ASSEMBLE by the same guy in two separate situations in the same issue...
MIGHTY AVENGERS 36
http://marvel.com/news/comicstories.12170.preview~colon~_mighty_avengers_%2336
Its hard not to compare to NA when they come out the same week but this cover and issue was much more enjoyable. For mu¢h le$$ too!
'If it aint broke, dont fix it' is usually a good rule of thumb. Have enjoyed the MA layout with Cassie's blog so seeing Jocasta files had me ready to nitpick but instead it worked just as good!
Just registered that Blackjack is a combo name for the duo. Good to know.
Thanks to the introduction of
UNDERSPACE last issue
, Jan has pulled a Kitty-in-a-bullet scenario and now has a possible road back to the land of the living. So thaaats how she died, scientifically speaking, in
that SI tragedy
.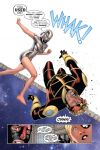 Oooh, the yinyangy karmic irony of the b*tchslap.
The art was okay. Really enjoyed the black on silver word balloon s for Ultron Pym.
10 billion brides??!! WOW. Good thing Spidey or Deadpool werent there too or people may have died laughing with the potential zingers with that one.
Fiiinally Pietro looks in Transia... she was probably around the corner... then the call. As Maxwell Smart would say
missed it by that much
.
Another vague crossover with SIEGE 4 apparently/unfortunately, just like in NA. Makes me psyched to read it though. Kinda SPOILED the climax probably with the Loki comment. He probably gives his answer to Pym's offer in #4 but hopefully it gets mentioned next issue too.
Epic visual fight with Giant Wasp vs Ultron Army. Some notable(/soon to be recurring?) 'zap gun' action too. Those protective goggles really did there job it seems. Epic solution too - though kinda weird to follow the logic/plan behind it. And was the ceremony under the Church of Scientology Supreme?
Was that bald shirtless Avenger, supposed to be D-Man?
Didnt realize that Jarvis had his own key to the Infinite Mansion. Appreciate the mention of the Iron Man armor in the case.
The Asgard battle needs a poster child victim... USAgent maybe? Hmmm...
Great last page at a glance but no reason Pym went to change to new suit and goggles, no good reason Spidey &Iron Man should present at this time and place after the crash, no mention of the Odin Spear, no footnote direction to read SIEGE #4 next to the sudden THE END.
---
Upcoming
SA
:
http://s691.photobucket.com/albums/vv276/Silvernoir/1271269678194.gif
I miss my brother.