Previously...
http://www.comicboards.com/php/show.php?msg=avengers-2015063013015816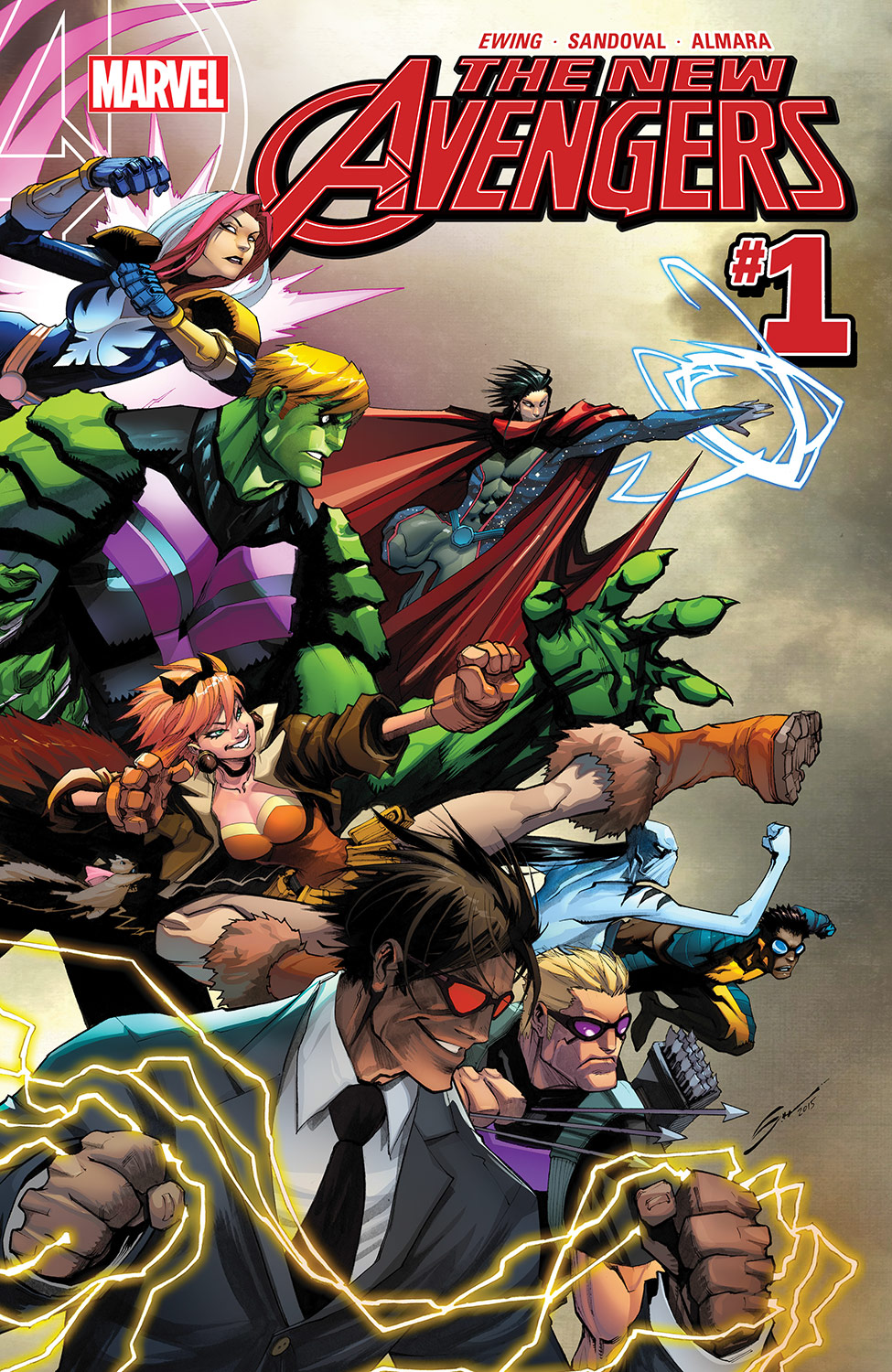 This has been copy/pasted from another forum...
Quote:



New New Avengers interview

>How do you defeat one of the Marvel Universe's most persistent and technologically advanced terrorist networks? Well, if you're the Avenger known as Sunspot, you simply use your vast fortune to buy them.

>Now, with the rogue science network known as Advanced Idea Mechanics -- or A.I.M -- under his employ, Roberto da Costa has tasked them with creating devices to help save and enrich the world rather than plunder and destroy it. Soon, he'll further the good work A.I.M is doing by turning them into a support network for his own team of Avengers.

>Of course, the world isn't exactly ready to trust an A.I.M.-affiliated Avengers team, so when writer Al Ewing and artist Gerardo Sandoval kick off a new volume of "New Avengers," Sunspot will be facing the challenge of not being allowed to officially operate on American soil. So, how will these New Avengers will handle that situation? And who, exactly, comprises the team?. Ewing spoke with CBR News about those questions, as well as the group's relationship to S.H.I.E.L.D. and the new and familiar foes that will test the mettle of the A.I.M.-supported Avengers.
>>Anonymous
08/26/15(Wed)18:41:43 No.75259395
Anonymous 08/26/15(Wed)18:41:43 No.75259395
File: New-Avengers-00-page-05-b(...).jpg (586 KB, 2200x835)
586 KB JPG>CBR News: From what I've read, it sounds like your "New Avengers" run could be comparable to Nick Spencer's "Avengers World" book in that it has a real international flavor to it - is that fair?

>Al Ewing: It's fairly fair -- we're going to be having adventures in different countries, in outer space, even involving other times, and about the one place we won't be going in the immediate term is the USA. (Ably protected as it is by the other Avengers teams.) So in that sense, it's going to be pretty international. It's not going to be overly similar to "Avengers World," though, for the simple reason that it's a very different creative team on the book.

>Sunspot purchasing A.I.M. was established in Jonathan Hickman's "Avengers" run -- can you tease what Sunspot has been up to in the eight month gap before "New Avengers" #1? Will we see the incident that lead to the new Avengers not being permitted to operate on American Soil?

>I don't know if it's one single incident, if there was a straw that broke the camel's back, but the US Government is taking a hard line against A.I.M., as well they might, and they're not really listening to Roberto's assurances that times have changed for the once-evil super-science organization. As for the eight month gap -- it's likely there'll be the occasional flashback, but issue #1 starts in medias res, with the New Avengers fully put together and on the way to their first international crisis as a complete team. Well, aside from the ones staying behind on Avengers Island to handle the first diplomatic crisis, as S.H.I.E.L.D. drops by to ask what the hell is going on.
>>Anonymous
08/26/15(Wed)18:42:23 No.75259417

>>Anonymous
08/26/15(Wed)18:44:09 No.75259484
Anonymous 08/26/15(Wed)18:44:09 No.75259484
File: NEWAVN2015001.jpg (396 KB, 900x1366)
396 KB JPG>I understand that when "New Avengers" begins, Sunspot is sort of under house arrest in the team's new headquarters. How is he handling being confined, and how does that impact his leadership abilities?

>It's more that he runs the risk of being arrested if he leaves. S.H.I.E.L.D. doesn't quite know what to think about A.I.M. or the New Avengers, so they're investigating and taking a reasonably hands-off approach until all the facts are in. But, like I said, there are governments that are taking a very dim view of A.I.M.'s previous activities and don't really accept the idea that an organization like that, that's built a reputation for practicing dangerous experimental science with no regard for the laws of man, beast, fish or fowl, can ever be fully purged of dangerous elements.

>Avengers Island is a pretty okay place to be confined, as we'll see in the map that comes with #1, and Roberto's keeping busy running Mission Control for the New Avengers and co-ordinating A.I.M.'s other arms -- the super-science division acts as a kind of souped-up Q Branch, making vehicles and gadgets for the team. He's kept busy.

>Though the title of this book is "New Avengers," it does feature a veteran in the form of Clint Barton. What can you tell us about Hawkeye's reasons for joining up with the team? And does Clint Hulkling and Wiccan's presence mean the other Hawkeye, Kate Bishop, might appear in this book?

>It's possible! It'd be fun to have a Young Avengers reunion, although I'd like to establish the New Avengers as their own thing first.
>>Anonymous
08/26/15(Wed)18:45:32 No.75259539
Anonymous 08/26/15(Wed)18:45:32 No.75259539
File: NEWAVN2015002.jpg (390 KB, 900x1366)
390 KB JPG>As for Clint -- he's the team traitor. He's a S.H.I.E.L.D. spy, sent to monitor the team and report back if they look like a threat. He and Dum Dum Dugan are extremely open about this, and Roberto's cool with it -- he's not about to start a war with Earth's biggest spy agency unless he has to, and he's got nothing to hide. Not on Avengers Island, anyway. And he likes Clint. So it's quite an amicable traitor agreement, with a lot of joking around and no hard feelings. Unfortunately, there's a second infiltrator on the team, and they're not as up-front about it.

>It's been a while since we've seen Hulkling and Wiccan, so what can you tell us about their status quo?

>They're still a couple. I like them as a couple. (There is an ex-couple on the team, but it's not them.) Things are much as they were at the end of the "Young Avengers" run, and during the Ryan North story after that -- which doesn't mean that I don't want to explore the Demiurge stuff, or do my own cool stuff. I've got some big plans for those two that'll start to drop as early as #3 or #4.

>In the meantime, how they feel about being part of the team -- it's a big life decision. They've got secret identities, but having Wiccan and Hulkling publicly affiliated with a team the U.S. sees as "not the good guys"--it was a big step, and there are no assurances that they won't end up like Spidey, with the cops pointing guns at them all over, which would put a big crimp in their superhero style. And they've only just joined -- they're the second to last members to join the team, as we get one new member joining in #1 -- so they're partly the viewpoint of the reader, finding out about all this stuff for the first time.
>>Anonymous
08/26/15(Wed)18:47:02 No.75259602
Anonymous 08/26/15(Wed)18:47:02 No.75259602
>Rounding out the team are Songbird and Squirrel Girl. I assume you were inspired to bring these characters onto the team because of Squirrel Girl's connection to past Avengers teams, and Songbird sort being fated to become an Avenger in "Avengers Forever."

>Those aren't the last members! There are three more who didn't make it into the preview image, but come "Avengers" #0 and the final #1 cover, you'll know who they are.

>Songbird's essentially the field leader -- she's evolved through time and necessity into this very cool, confident personality under stress, but also into someone who doesn't seem to fit as automatically into the Avengers as her "Avengers Forever" self seemed to. I kind of feel like "being an Avenger" is a dream she hasn't allowed herself to have in a while, if she ever had it -- she's seemed like such an integral part of the Thunderbolts for so long, that maybe she couldn't see a life beyond that. It'll take time for her to acclimatize to a team where the members aren't chained to their seats for missions.

>As for Squirrel Girl -- I just thought it'd be cool to have her in. She's got a really great voice at the moment, that's a little hard to capture but totally worth it when I manage to, and once I pitched Squirrel Girl as a possible member, it just made more and more sense in my mind. Hyper-competent young hero, defeats major threats through creative use of her powers -- why would Roberto not want to recruit her? The only reason not to have her on the team is some weird A-list, B-list, hierarchy nonsense, which anyone who pays attention to these interviews will know I loathe.

>Plus, it's already loads of fun having her on the same team as White Tiger. Two ultra-competent young female heroes with utterly opposing styles. Ava's style being essentially "no time for fun, ever, I'M BATMAN." I'm foreseeing a Clark Kent/Bruce Wayne type relationship of firm friendship tinged with bafflement.
>>Anonymous
08/26/15(Wed)18:48:54 No.75259654
Anonymous 08/26/15(Wed)18:48:54 No.75259654
>With Sunspot owning A.I.M. you potentially have a large supporting cast in "New Avengers." Will we meet some of the scientists that serve as the Avenger's support network?

>Yes -- we've got at least two recurring "civilian" characters, Toni Ho and Max Brashear, who are working on Avengers Island as heads of their respective departments -- Engineering and Theoretical Physics, respectively. (Readers of my "Mighty Avengers" run will probably recognize at least one of those names, if not both.) These are the people who analyze the weird science and build the cool gadgets. When we first see them during #1, Toni's working hard on a new mysterious vehicle for the team called Avenger Five, which suggests there might be Avengers One through Four -- specialist vehicles for special missions. We'll get to see Avenger One in action early on.

>It sounds like you'll be creating a lot of new villains, but also using some established ones as well.

>I'm taking the "new" part of "New Avengers" pretty seriously -- I want to have lots of new villains, new supporting characters, new locations, new everything. So get ready to meet the Neohedron, the Knights of the Infinite, Moridun of the Fifth Cosmos, the American Kaiju -- and we'll be having some old threats back as well. There's one in particular that's been revealed in the solicits: the Maker, aka the Ultimate Universe's Reed Richards. What he's doing, and what he's doing here, and if it's even the same being as the one appearing on comic shelves at the moment in "Secret Wars" -- that's all something I'd rather keep quiet about for now, but answers will be forthcoming.
>>Anonymous
08/26/15(Wed)18:49:59 No.75259687
Anonymous 08/26/15(Wed)18:49:59 No.75259687
>Bringing to life your "New Avengers" run is Gerardo Sandoval, an artist who's proven he's great at juggling the large casts and showcasing kinetic action and character design, especially when it comes to strange beings.

>I like Gerardo's energy -- he infuses everything with a very stylish, kinetic sensibility, and he's doing some interesting things with his inks that I'm enjoying. The way he lays out pages reminds me a little of Howard Porter, which is a very good thing. As for strange beings -- there are plenty of those, from issue #1 onwards. I just saw the cover where he drew Moridun for the first time -- I mentioned him earlier -- and he went above and beyond, as you'll see soon enough.

>"New Avengers" isn't the only high profile team book you're writing. I know you want each to be a separate experience, but will there be some connective tissue and perhaps a larger story for readers of your other Marvel books, "Contest of Champions" and "Ultimates?"

>There will be! That connective tissue is still growing and forming, but I suspect it might have something to do with the Avengers 20XX, who'll be making a return visit to the Marvel Universe in this book -- and maybe something to do with the mystery substance Neutronium as well, if everything goes to plan. But don't quote me!

>I'll finish up by thanking everyone who's been spreading the word of this book online! There are a lot of people's favorite characters in this book, and I know their fans have been vocal with their hopes and fears. (As far as I've seen, anyway.) I will try to do the best I can for everyone, and leave all these characters in at least as good a place as I found them -- as far as the natural sturm, drang and drama of cape comics will allow, at any rate.