ALL-NEW HAWKEYE #5:
> A boy at odds with his big brother. A hero out of sync with his partner. Team Hawkeye, both past and present, is fractured. Things come to a head as Barney, Clint, and Kate learn what it means to carry the name Hawkeye.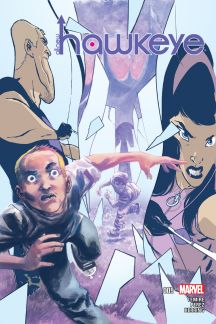 What a surprising conclusion for how much better the storytelling wrapped up this otherwise awfully lackluster opening arc with issues 1-4! These 3 reviews:
http://www.comicosity.com/review-all-new-hawkeye-5/
http://pop-break.com/2015/09/17/review-all-new-haweye-5/
http://nerdsunchained.com/2015/09/review-all-new-hawkeye-5/
make many positive points about this ish that feel right. However they are probably overkind about the art - although it was comparitively better than 1-4! And IMO if they wanted a distinct new style for the last timeframe of the story they really should have copied this specific run here more:
https://en.wikipedia.org/wiki/Old_Man_Logan
This engaging issue actually motivated me to finally look up the translation of the title but the online translator didn't help:
https://www.babelfish.com/success/
wunderkammer
--------------------------------------------------------------------------------
Translation
Wunderkammer
--------------------------------------------------------------------------------
so a quick Google yeilded a more sensible result saying:
http://yalepress.yale.edu/book.asp?isbn=9780300197983
the idea of the wunderkammer—"wonder-room" or "cabinet of curiosities"—that originated during the Renaissance
All this is not to say that there were not highly questionable choices with this tweaked canon offering:
What?! After all this time Clint considers himself nothing but a thief?! Either he is REEEALLY bummed out about himself this run or that's just blatantly wrong. He may not be a classic hero and he may have started out a criminal reluctantly or under stress or duress but he has always come across a a good guy, deep down, which is so NOT a thief.
What?! Well nudie pics are commonplace and he had a known... willingness to hook up with Mantis back when she started out in her lady of the evening persona - but this? Now to add to Swordsman's checkered past, (his stash implies in the least offensive scenario possible that) he had... a fetish for... NSFW pix of what appears to be... his barely legal woman co-burglar? This certainly adds layers to his complex character and taints his Avengers ultimate redemption somewhat at the same time.
What?! Kate still thinks she can take care of the killerkids after this showing? Her continued popularity aping Hawkeye's good name annoys me more at times like this. She-Hawkeye really needs to adopt her own codename by now. [It could be a potential pet peeve if she keeps it for all those decades we now know she is going to live.] She is wrong to think Clint is bailing and he is right to think she is acting stupid. Then she acts more... naive by blindly accepting the killerkids "NO MORE HURTING" promise a second time after the first time failed. Sheesh.
What?! Did you say something? Oh right, Marvel is intent on reinforcing his 'recurring' permanent hearing disability in the 616. It's just that it's belated origin tying it to his abusive father feels like clunky retcontamination for an otherwise interesting character concept that should have just began the first time we saw it - an adventure mishap in one of his early mini series, right?
What?! He just turns away?! Hawkeye doesn't help his case (or frame of mind) much by later just allowing HYDRA to waltz in and scoop up the children. C'mon! That is SO WRONG and SO NOT Clint! BAH!
What?! This will tie in to Old Man Logan timeline? Hmmph, that is kinda neat. And kinda makes sense if OML is going to survive post-Battleworld. It tied in nicely with the juxtaposing timeframe theme of the arc and sorta made this wunderkammer plotline feel somewhat meaningfull afterall. Huh, maybe they'll be to blame, in the future, for Clint picking up his second disability of blindness.
What, did you think?!
---
I miss Dad and Dan.