Zombies Assemble 2 (2017) #4 (of 4)
> THE END IS NIGH! It's the thrilling conclusion to ZOMBIES ASSEMBLE as the Avengers finally come face-to-face with Patient Zero – a super-powerful zombie who can control the mindless, mutated horde on the loose in New York City. When the team discovers who Jasper Scott really is, and what he's done to facilitate the spread of the virus, they'll learn just how intertwined his and Dr. Amano's pasts truly are. Can the Avengers overcome Patient Zero and save the city? Plus: Find out what really happened to Rhodey! Printed in black and white in the original right-to-left reading orientation.
> Avengers don't show up until 1/2 way through book.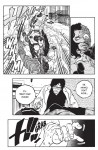 Was anyone entertained with this conclusion?
Did anyone pay the ~$20 for all 4 issues?
Should Avengers get more non-canon digital series?
PREVIEW pages 1-3:
https://comicstore.marvel.com/Zombies-Assemble-2-2017-4-of-4/digital-comic/46387