Empyre 001
AND this is another link to Empyre #1.
Quick ramblings...
It was okay. Nice art. Decent set up. The Big 3 get as much spotlight as the FF.
The status of Blue Area Cotati/canon still comes across as overly plot device convenient/ridiculous.
The FF are preoccupied with wordplay on Thing's catchphrases.
Captain Marvel is full of herself as intergalactic negotiator.
Robbie is only there to (ambiguously) pimp-out the Quinjet. Yawn.
3 pages of POV overlap with 3 pages in Fantastic Four
#21
- maybe not so much verbatim but on the plus side it clearly locks in continuity placement with THAT team's title. The Avengers book? Not so much.
Sometimes Sue's power allows invisibility to just light and sometimes a writer personally upgrades the scope by which she can mask from more sensors - this is the latter. It also may introduce the reverse-power as per Kl'rt.
Jen's trolltalking, trolllooking, Hulk persona gets another makeover - getting arguably closer to this list of enunciators:
https://sport.one/the-10-most-attractive-female-bodybuilders-of-all-time/
. (And a hammer that may be before or after Carol tries one out in her book.)
Panther one-ups his teammates - again. A veritable Cap/KingThor/Shellhead/Snikter wrapped in one with THIS umpteenth upgrade. Check out the Panther Space Armor.
Reed and Tony introduce their own brain journals of sorts. Pretty neat concepts if they it wasn't via simultaneous copying each other - but on the plus side at least they don't write it down like Miles does.
Thor looks like his old self again. No explanations yet, AFAIK - maybe Galactus will patch him up as Herald reward?
Ewing and Slott give Mjolnir old school props.
When Swordsman-tati grafted with the original Swordsman's DNA he must've included the Filthy Traitor Gene.
The big Space Fight? Meh.
Pursuer, Captain Glory, and Mur-G'nn score facetime.
Hulkling is behaving...
Did Quoi just vegitize the heroes worse than Krakoa has mutants??! Uh oh.
YOUR COMMENTS?
https://www.comixology.com/Empyre-2020-1-of-6-Directors-Cut/digital-comic/836669
---
I miss Dad & Dan.
---
[EDIT updated wikia pic from THIS ISSUE:]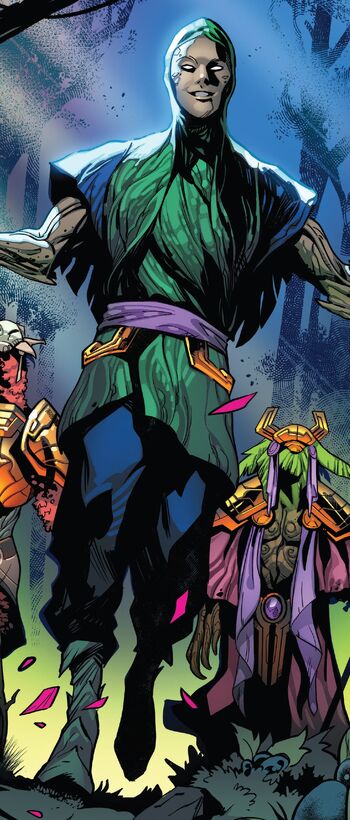 Empyre #1 cover by @MahmudAsrar !!
https://pbs.twimg.com/media/ETWQWZbXsAIRo2r.jpg
Skrull Variant
https://pbs.twimg.com/media/Ec_IynTWsAAGSLT.jpg