Savage Avengers 024

So, apparently GATH is THAT good at being an evil WORLDBUSTER. Huh. However, chronology still be damned after 24 issues. Hmmph. So many wonderful guest star heroes for hardly a pizzpoor, flash in the pan, big battle photo opp and a telegraphed end result. In fact, Banner's 'adamantium trapped' fate made little sense and somehow got a spotlight. Yet, some nice images and moments around Strange, Doom and obviously Conan who are the crux character cast. The last page warning on the cover was a neat underused gimmick and tbh had a good payoff considering the character's return to the limelight. However, if next issue doesn't clear up the serial chronology with THAT character's new mini series then that will be ANNOYING. Considering what happens this ish, if these 24 issues are revealed as an alt-timeline then that will be SUPER ANNOYING. The next cover is grabber - even if it copies Maestro's throneroom spread in Future Imperfect.
Do you think this installment was "THAT good"?
[And FYI the page count appears to be regular 20 pages instead of the 23 in the digital solicit above.]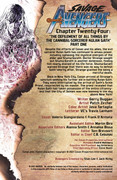 ---
Support Cancer Research and Alzheimer Research and COVID Research.
[EDIT:] Actually, hoped that last page surprise would be "Red":