Black Panther vs. Deadpool 004 (of 5)
> INTRODUCING...PANTHER-POOL! (YES, REALLY!)
> A classic Marvel team-up gone terribly wrong! Who could have predicted it?! Luckily, there's an easy solution. All the Black Panther needs to do is give Deadpool a bullet-sized chunk of the world's most precious resource and let him return to New York in one piece. Wait, you say that's a terrible idea and that T'Challa would stop at nothing to keep Vibranium out of Deadpool's homicidal hands? WELL, YOU'D BE RIGHT! But how do you get rid of an unkillable pest? Buckle up, True Believer, because the Black Panther's about to do the unthinkable!
Funny, funny stuff with enough comic book adventure to thoroughly enjoy
IN SPITE OF the talking head ridiculousness
. It's rare, lately, twenty consecutive pages of DP would this bearable, let alone each have worthwhile entertaining value. From the opening worthy cover gag to the last page KA-CHING!
Three funny Avengers jokes to start. Cool ship. DAMISA-SARKI detail. Clever namedrop of Ta-Nehisi Coates. Cute Canadaian quip. Avenger Assembled. Noble motives of DP to save Lumpkin. Smart C-4 backup plan. Wrecker's Crowbar = Pavlov's Gun. Panther was handled well in this insufferable pairing. Serious Wakandan canon with new suits and Vibranium Mound. SHIRI blending
. PANTHERPOOL - c'mon, it was pretty fun throwaway concept, eh. Some cool visuals in spite of some equally scratchy artstyle. Banter during their fight. Okoye scores a guest cameo. Classic comics craziness that comes with the last page sitch.
Only 1 issue to go to resolve this conflict - not to mention save poor Willie Lumpkin! Can't wait!
Who else enjoyed this chapter, out there?
https://comicstore.marvel.com/Black-Panther-vs-Deadpool-2018-2019-4-of-5/digital-comic/50434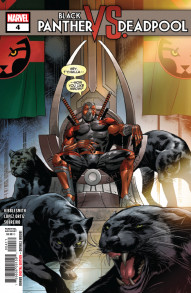 ---
Support Cancer Research and Alzheimer Research.