Black Panther 016 (2019)
Quote:


https://wordofthenerdonline.com/review-black-panther-16-marvel-comics/
Word Of The Nerd - Josh Sykes

Sep 27, 2019

It continues to amaze me I may be the only guy harping that this book needs attention, and that should change. Coates and Acuna's story is rightfully fit for a king, and should make any and everyone's pull list this week. I was worried, with the X-Men comics getting a ton of attention, that we would see Storm pulled slowly from this book, but that hasn't been the case, thankfully. This issue succeeds in places I was sure it would fail, which is my mistake for doubting Mr. Coates. Read Full Review

> this book needs attention, and that should change
Click here to see 96th in July
Things could improve after this intergalactic storyline is over and done with. This story set up is much more engaging than the first year of this title. It's too bad it's got the copycattish plotfoe of Absolute Carnage going on. Symbioted-up N'Jadaka might not be able to compare if he's got to recruit Z-listers like Tetu and Zenzi. But we'll see...
> and should make any and everyone's pull list this week
Mr.Coates's appearance on THE VIEW with a nod to his Cap and BP books should help:
https://www.comicboards.com/php/show.php?msg=camb-2019092618143805
> we would see Storm pulled slowly from this book, but that hasn't been the case
Storm's ambiguous timeline chronology is crazy. Storm's teambuster, dare one say fiftyfleetsbuster, showing/strategy -in progress- seems... crazy. (Please clarify is this thru the portal battle in Wakandan airspace or outer space?) And speaking of crazy - how 'bout that the matter-of-fact unheralded intro of plus-sized flying winged panthers? (Or have we seen them before?)
Now, that BP is back and his star trek is spoiler free - Marvel really should properly footnote where #1-#15 fit in Avengers continuity! The (most likely) pending sacrificial destruction of THE DJALIA and probable resultant power downgrades of T'Challa and Shuri and elimination of easy goto deus-ex-memorica solutions should make the heroes more relatable. Also, the art needs detail finessing and a more expository would have been better.
What do YOU think? Here's another Review for YOU to review: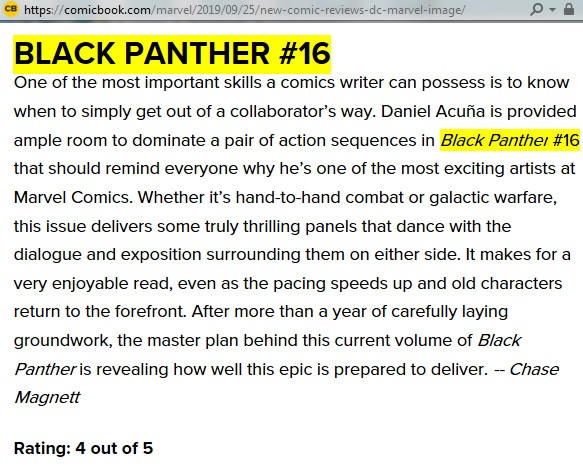 Preview:
https://comicstore.marvel.com/Black-Panther-2018-16/digital-comic/52583
https://abload.de/img/bp16triocikrg.jpg
---
Support Cancer Research and Alzheimer Research.