OH, so it's NOT over...
Black Panther (2018-) #19
> THE FINAL ARC OF THE "INTERGALACTIC EMPIRE" BEGINS HERE! The groundbreaking story of a king who became a slave - a slave who became a legend - reaches a tipping point as N'Jadaka's invasion of Earth continues! Wakanda goes to war against its own future…and its only hope lies in the king who brought them to this point.
https://comicstore.marvel.com/Black-Panther-2018-19/digital-comic/53218
Are you in? Or are you more interested in another Marvel book this week?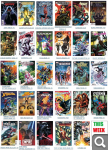 Support Cancer Research and Alzheimer Research.