Black Panther And The Agents Of Wakanda 008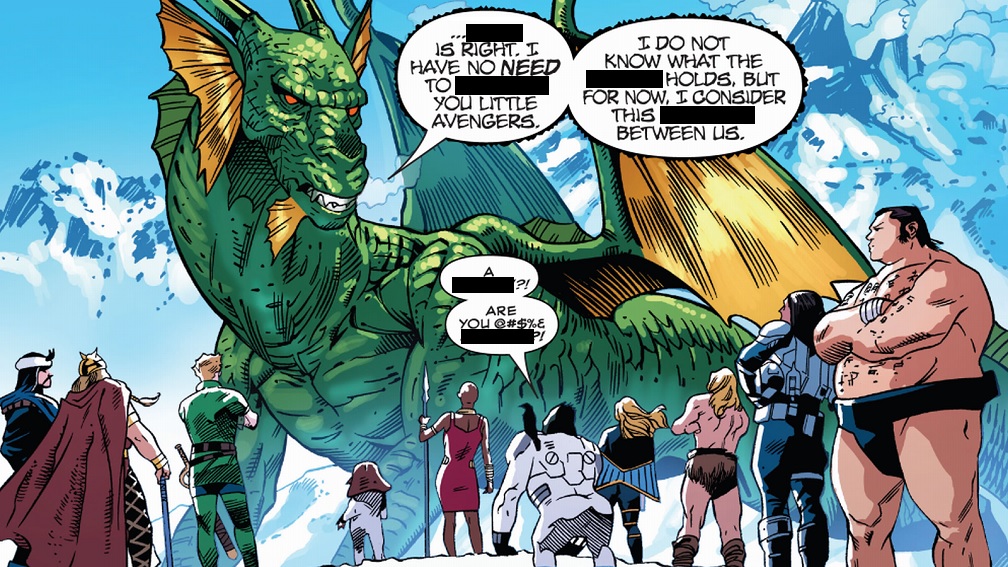 • Black Panther does not appear but:
- 5 Agents that are present are barely able to delay, at best, the 3 spewed birthings of corporeal personified dragons of the 3 emotions of Fin Fang Foom... yeah, weird, think:
https://en.wikipedia.org/wiki/The_Enemy_Within_
(Star_Trek:_The_Original_Series)
- 5 others: Huginn, Okoye, Fandral, Hogun, and Hildegarde don't get an opp to test the dragons
- 1 Broo sweet talks FFF into a truce... yeah, even though FFF mistakes Agents and Asgardians to be Avengers
- origin details of the Makluan 'Space Dragons' of the planet Kakaranthara are revisited and props with the footnotes to the Drax series... yeah, turns out a pacifist FFF more unentertaining than a pacifist Wonder Man or Drax?
• nb. Iron Man named dropped 3 times:
= FFF planned to contact Iron Man and his Avengers for help
= Stark has prepped by laying naval mines to deal with Namor and his Defenders of the Deep (and told Ka-Zar about it??!)
= implied that Tony would monitor security for some unnamed "Bad Stuff" imprisoned in Avengers Tower
> SECRETS OF THE SPACE DRAGONS! Fin Fang Foom is one of the mightiest creatures in the Marvel Universe and now he's no longer alone! Can Broo and the other Agents of Wakanda unravel the mystery of this bizarre new "Legion of Foom" before their rampage destroys Avengers Mountain?
How do YOU rate the Agents, big fights, and resolution?
https://www.comixology.com/Black-Panther-And-The-Agents-Of-Wakanda-2019-8/digital-comic/836564
---
I miss Dad & Dan.