Defenders 004 (2017)
On the plus side, this was a VERY ENTERTAINING read. And the artwork and colours were GORGEOUS. On the minus, this seems like it could be an agonizingly, dealbreaking, slowpaced run. The whole issue was basically Iron Fist vs Diamondback - which in itself was awesome - assuming the unrevealed origins of Diamondback put him up as a worthy must-see (re)match for Danny. And there were A LOT of subplot teasers to get excited about -like 10!- but consider: if each player gets a generous and necessary spotlight issue like this will there be enough page space to highlight the actual Defenders team AND keep up with the shared MU developments?
The 10 teasers:
1. The overdue return of one of the most underappreciated characters in the MU: Robbie Robertson. It would be great to see him running the Daily Bugle more regularly - especially compared to not-at-all since well before Secret Wars. He's good as the non-canon Recap page guy too. There, he talked about The Defenders going official but oddly it doesn't seemed to have happened yet.
2. Satisfying takedown of Diamondback does nothing to address A LOT of questions around his mysterious superpowered return. The panel stating his Diamond Drug is a change of MGH to IGH is an interesting detail in itself that need more exposition. Now he is apparently off to prison so that puts a twist on his good potential as a rising supervillain.
3. There's rumors that Black Cat may align with the Defenders. Go good? But here she is still large and in charge of the NY Underworld. If she does yoyo to the good guys that might ruin her character as much as her return to crime did. Whatever journey she takes is of prime concern - in her bid to become as popular as DC's Catwoman.
4. It was a pleasant surprise to see the POV overlap scene to Hammerhead fighting Spider-Miles in Bendis' Spider-man book last month. His toilet scene gave him layers. He's returning to his high Q-rating levels of yesteryear!
5. The scene with Roman and his GF using the IGH was good tease as to what the drug might bring. To be honest, the insight power result was seemed a bit underwhelming but probably Bendis can take it somewhere. And the GF does die so there is drama.
6. Urich gets involved. Gets his job back at The Bugle. Gets thumbs up as potential cast member, Hopefully he mentions ditching Spider-Woman and Porcupine and Jerry who'd be a fun playmate for Dani.
7. It would be good to have a detective appear regularly if this team is Hell's Kitchen based. Why not Det.Quaid? Or maybe a forgotten beat cop from any of the MU backissues.
8. Jessica Jones gave some good lines and good back up to IF's main event. Plus, she updates her husband with a rehash of the fight. Luke was a dud, this chapter, but better standing with his daughter talking to his wife than a NO SHOW by team member Daredevil. Maybe that graffiti wall locale means something? Jessica and Luke and Matt will have to bring more meaning to their membership - and they will.
9. ELEKTRA. It's only a foreboding and forshadowing cameo but... YAY!
10. Very giddyness inducing ending. It could be considered closed or open ending with equal satisfaction. Diamondback gets transported to prison and has to share the paddywagon ride alongside a trussed up Punisher! OOH, to be a fly on that wall!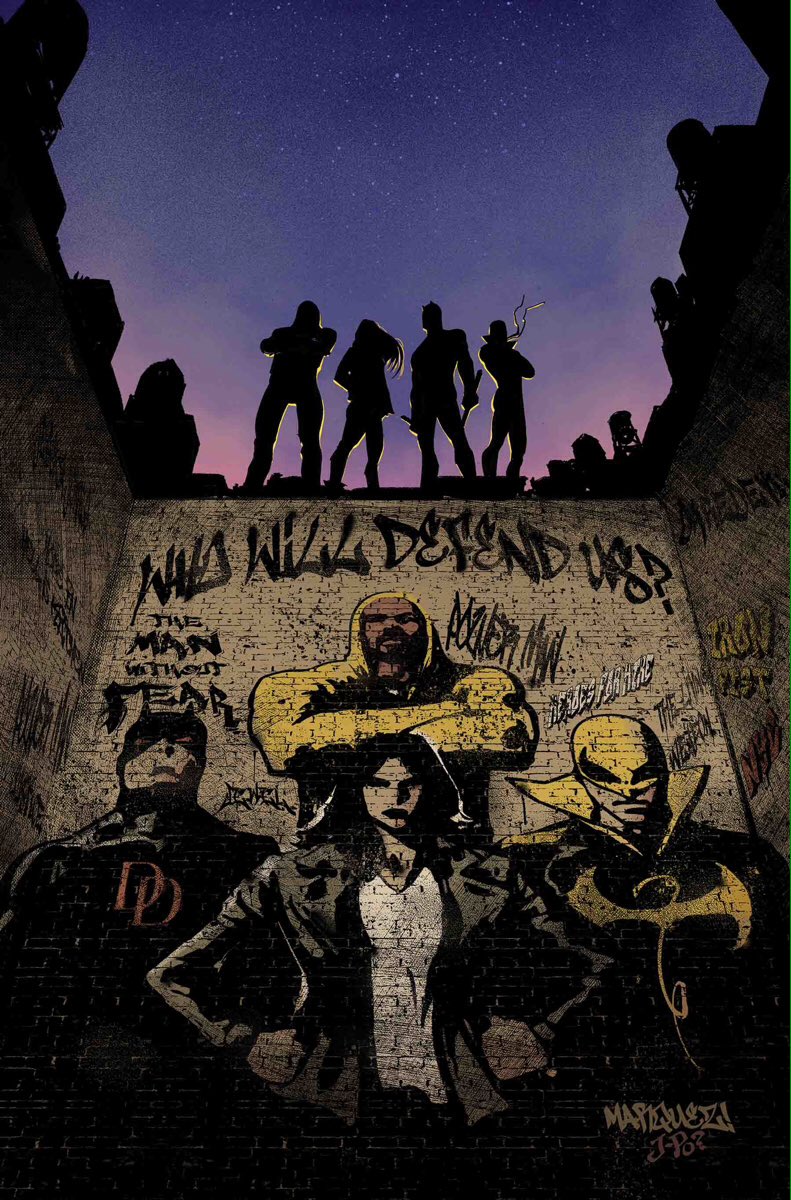 ---
Support Cancer Research and Alzheimer Research.