If you've been following closely with Question-wannabe-but-hardly-is Montoya, The Spectre, GCPD, Spear of Destiny, and Batwoman then this may've been the comic of the week for you. Don't here, wasn't for me. Same art concerns of
last issue
for this issue of...
REVELATIONS 2
http://www.dccomics.com/dcu/comics/?cm=10139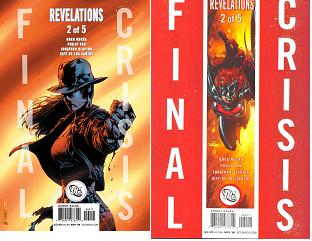 s
p
o
i
l
e
r
s
More questions(besides Question-wannabe-but-hardly-is Montoya):
Should readers know the details about the Order Of The Stone and the killings that Montoya is accused of?
Why does Wrack also want to kill Montoya for Our Lord?
Why is The Spear sticking in Wrack's gut? What was the last arc it was in? And how does Wrack survive an energized strike from it by Montaya?
Remind me about the Crime Bible? What's it's story - so to speak? And why/what is Batwoman fighting over it?
Where's the Gehenna procphecy from?
Mercy is an interesting balance for Spectre - is this her intro? And was Sister Clarice from GCPD? And previously alive for readers?
So, Libra had nothing to do with surviving Spectre, it was God who forbid him? (Libra can NOT have friends in On High places!)
Why are they calling Vandal by the name of Batgirl's father, Cain?
When was Vandal marked by Spectre? Does this appearance of his follow Planet Salvation? (Hope that Event wont be forgotten by writers so quickly too.)
It was interesting that Crispus killing his son was addressed but wasn't Mercy's answer for that a little vague, with the Abraham analogy, just so a plot device could save Montoya?
Maggie Sawyer? Isnt she supposed to be in Metropolis related titles? What's up with her?
The anti-life equation where numbers are substituted by random(?) emotions? (No wonder Darkseid couldnt do the new math.
)
Okay, some recent titles are ignoring selective events in Countdown (BLECCH to that) but did Darkseid fail to make the Fifth World? And is his Dark Side racket effectively over at this time?
Uuuhh, is Batwoman a sharp toothed Vampire or something?
Why bothering getting issue 3? (That's a rhetorical one.)
---