FLASH #201 is still before Cary Bates took on the writing. But it did have the interesting "journeyman" artist and FLASH mainstay Irv Novick - with finishing by Murphy Anderson, just for the right icing. And you know what? A back-up feature starring the Earth Two Flash, Jay Garrick, altogether drawn by Anderson.
"Million Dollar Dream"
and
"Finale for a Fiddler"
are by the prolific Robert Kanigher. They're both lightweight little potboilers, really, but they're nicely executed and I like them enough to elect to talk about them.
There's also a Gardner Fox four page reprint called
"The Man with Future-Vision."
The art by Carmine Infantino and Bernard Sachs brings a nice touch to the issue. It's brevity is part of its "act", part of its charm. Just like a Lee/Ditko situation, we get the premise on the first page, some examples of the Everyman exploiting his apparent luck and then a punchline. Robert Morton, caretaker at Allied Sciences Research Labs, gets off very lightly compared to many similar subjects.
On page 1 of
"Million-Dollar Dream"
we find Flash pleading with the boy in a wheel chair to get up and start walking:
"This is your moment, Pablo! Either you walk now... or remain a prisoner for life in that wheel chair."
This is Community Hospital in Spanish Village, Central City. There's a back-story to what we are seeing. Pablo does struggle up out of his chair, but in the bottom panel of page 2, he tumbles. It looks rather like Novick has pulled the carpet out from under him. Flash sees to getting him back into his wheelchair. He points at Flash as he walks tall but looks down, exiting by walking towards the reader:
"You did this to me, Flash! You put me into this wheelchair! I never want to see you again!"
His doctor catches up with his retreat. Pablo's problem is hysterical paralysis. (It's real. Perhaps i should just say recognised.)
"He'll walk again... when he believes he can walk!"
It's disease of the week - but this is distinguished by the fact that Flash seems to be to blame!
Barry Allen has every intention of staying on the case. He gets another ear-full from a what looks like Pablo's mother pushing Pablo. It's not just Pablo! The whole of Spanish-speaking Americans everywhere and especially in Spanish Village share the crippling in their own psyches. That might be laying on the mawkish rather thickly, but the fact is people do live through their sporting heroes, and much to my own astonishment, people will even take grief counseling for the continued losses of their team.
Iris tries to cheer Barry up. She has her arm around his. Secret identity giveaway that it is, at least no one else is in sight.
Until the last panel of page 4 when a car comes driving at Flash and Iris. Flash doesn't move. Iris actually has to pull him out of the way of the car. It backs up and three thugs emerge. Flash snaps to when he is hit into a barrow of kitchen implements, radios and such merchandise. He flings a barrage of these objects and then cleans up with a super-speed
"fusillade of fists."
Soooo wrapped up in guilt, his gears stuck, I guess that could happen, the Flash zoning out on himself.
Wandering through Spanish Village (arm-in-arm?), Flash is about as popular as influenza. A huge billboard of
"Our Pablo the Spanish Flash!"
makes them stop and gawk. There is a visual problemo here. We are looking down from an angle on this billboard. There are speedlines. They shouldn't under ordinary circumstances be used on a huge public image, a photograph and so on. But that's not the gaff. Novick has drawn the picture of the "Spanish Flash" as though he was actually moving. Take away the billboard and it would look correct. With the billboard, we have an inappropriate and paradoxical perspective and speedlines with the wrong information.
The back-story begins. Its breakfast and Iris is pouring (I would presume) coffee. It's the breakfast table in the morning scenario. Flash is holding the newspaper and saying he'd like to meet El Flash Espanol.
In costume, he whisks himself and Iris across town.
"You must have Spanish blood in you to be so fast..."
some fellow on a stoop remarks.
Flash and Iris meet the family and a young eight year old wants to marry Flash when she grows up. At the gym, Pablo is called the fastest basketball player since Milwaukee Buck, Lew Alcindor. Flash wants to treat Pablo to a visit to his grandfolk in Puerto Rico. As they hurl across the ocean on Flash-feet, a burning freighter steals their attention. Flash deposits Pablo where its not burning and goes about his business - but his vibrations actually fan the flames. He gets off the vessel and creates a small tidal wave action. He hasn't seen a cracking mast fall and clobber Pablo's legs.
A week passes back in real time. A helicopter about to do a smuggling number on a tall warehouse finds the Flash running up the building at it. He runs up a bullet stream and seems to take care of the occupants. In the
"split-second that he stops vibrating"
some beggar manages to wing him with a bullet.
Result? Flash can't feel his legs to work them. He awakes in hospital. Now he's being wheeled around in a chair. The following day, he finds himself waiting to see the same doctor as Pablo. They don't get a chance to exchange a word - at least not until the "chem lab" blows up. Flash and "chem-labs" !! Flames trap them both.
Flash spills from his wheelchair, attempting to take action. Pablo manages to get up on his two pins and drag the Flash to safety. With a prayer to the Mother of God from Pablo, its up to Flash now... They're on top of the building which by now has a slight Towering Inferno look to it. Flash gets up and runs down the building, paying Pablo back. They've each had to endure each other's pep-talk and its been worth it.
Iris West shows up with Pablo's grandparents from Puerto Rico in the midst of the throng of people - and the eight year old girl proposes to Flash again.
"Finale for a Fiddler"
is once-over-lightly but really sweet. Flash the First whisks Joan to a rock and roll gig (which I think would have some kind of mellowness to it, like a Byrds concert or the lighter side of the Grateful Dead.) The Fiddler is ready to play his brand of chaotic fiddle to keep the crowd occupied while his three cronies raid the close-by safe. Everyone but Jay dance in frenzy and goofballs say stuff like
"I'm all shook up."
Flash overcomes any adversity and he even wrecks the strings on the fiddle.
Cornelius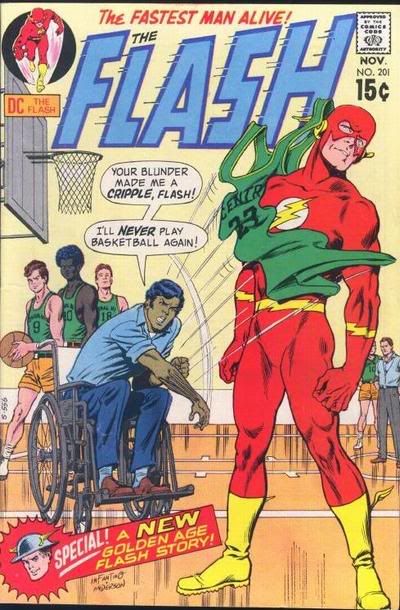 Reading: THE GLASS BEAD GAME by Herman Hesse.
Comics: DAREDEVIL vol.2 #82-119, the entire run Ed Brubaker-written run; DETECTIVE COMICS #426, the all-Frank Robbins "Killer Roulette" masterpiece; SUPERBOY #197 (which he was sharing with the Legion of Superheroes during the stellar Dave Cockrum-drawn period), FLASH #201 (for Murphy Anderson appreciators - he inks Irv Novick on the lead story and draws the Jay Garrick back-up completely) and FANTASTIC FOUR #133 (the Ramona Fradon issue.)
Listening: To Loki practicing the trumpet - just at the moment.
Watching: FRIDA, HELLBOY II (What happened? The first one is decent), and QUANTUM OF SOLACE (every bit as good as CASINO ROYALE, I found.)
RIP: RIC ESTRADA