Green Lantern 002
Some high praise again by many online reviews @ comicbookroundup where this ish is averaging 8.8/10 with 25 reviews so far. However, my appreciation of the ish is echoed more with the blurbs much lower down that list...
Quote:


9.0

Shoot The Breeze Comics - Marcus Freeman

Dec 5, 2018

Hal Jordan continues his investigation into Controller Mu and the Blackstars, while Mu continues to gather items needed to complete his grand scheme. In this issue we meet new and unusual Green Lanterns who assist Hal in his investigation. Evil Star makes a short and untimely cameo in this book and his weapon of choice seems like it will mean a lot to the story going forward. Hal's investigation just took a drastic turn and a whole planet is now at stake. Read Full Review
Yep.
Quote:


8.0

Green Lantern Corps - iggy

Dec 5, 2018

Morrison wants to bring the weird to Green Lantern and Liam Sharp seems more than happy to oblige. Pure nightmare fuel in some pages. Read Full Review
Yep.
Quote:


8.0

Newsarama - Joey Edsall

Dec 5, 2018

It may not hit everything out of the park, but it manages to be a book that is, above all, interesting, and one that promises even more interesting things to come. Read Full Review
Yep.
Quote:


7.2

Word Of The Nerd - Brent Jackson

Dec 5, 2018

The Green Lantern #2 is a hard book for me to judge. I like most of it. The story is intriguing and after this issue, I have somewhat of a better grasp on it. I enjoy the art as well; Sharp has a wonderfully detailed style and I love seeing all of these crazy aliens brought to life. On the other hand, I was very confused about a lot of things storywise in this issue and mainly my faith in Grant Morrison bringing this all together in later issues kept me. The art also is not very dynamic. It looks beautiful but I wish it had a little more "flow" or a sense of motion to it. The Green Lantern #2 is a solid issue with some flaws. For now, it has enough good going for it to keep me on board. Read Full Review
Yep.
Even if it was selectively better than average, imo, it was better than the premiere and there was enough to bring me back for next issue...
• Quirky cover ended up being refreshingly spot on.
• Evil Star?! Yep, Evil Star.
• Why does that Green Lantern Rot Lop have a 'bell' insignia? Why can't he translate English words? Words that don't translate into it's language?
• Weird aliens. Weird GLs. Weirdly done right.
• Volacano Head! Ha. Now THAT's alien.
• A brilliant Planet OA splash page!
• nb. 2 methods of personal space travel was notable.
• Fun twist to the Good Cop/Bad Cop routine flip flopping to Bad Cop/Good Cop.
• Creepy transition from vampiric bite to chowing down on slurrky prison chow.
• A bit odd but interesting development of the Blackstars "big" threat.
• Great ending. A disappearance of Earth would have been SPECTACULAR if it didn't just happen at Marvel and in Superman with Rogol. Still, good chance it'll be done better.
Do you have high praise -or less- for any part of it?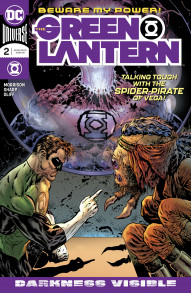 ---
Support Cancer Research and Alzheimer Research.