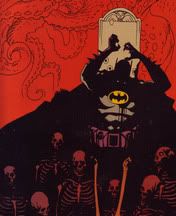 The Mignola Bat.
http://comicbookresources.com/?page=preview&id=322&disp=table
Here's the HULK's Herb Trimpe loose on the creations of Mike Mignola. The inks of Guy (SANDMAN MYSTERY THEATRE) Davis give it an almost European look.
Corn
-
Herb's Son of Satan.
Reading: DEFENDERS #1-20 including the Avengers/Defenders Clash - (I was just perusing DEFENDERS ESSENTIALS vol. 1 and before I knew it, I was reaching for the Len Wein stories in vol 2), assorted stories from SUPERMAN SHOWCASE vol. 1, AFTER 1984, a poetry chronicle by Judith McNeil and KAVALIER AND CLAY by Michael Chabon.
Listening: Ministry, Mars Volta and Brian Eno.
Watching: The's TV's back on for LIFE ON MARS and OUTRAGEOUS FORTUNE.
Films: TWO WOMEN (where Sophia Loren immortalises herself), ME AND YOU AND EVERYONE WE KNOW (for something so remarkably twee, not a bad film) and COOL HAND LUKE.