NEW GROUND #9
I don't always appreciate comic anthologies. In fact, often I don't. Sometimes there is a "must-have" feature in the company of nondescript submissions. That's a major irritation. Places where anthologies have been incredibly well served by their material include the heyday of 2000AD when it was mainly black and white (1977 well into the 80's), the DRAWN AND QUARTERLY volume 1 which had an artistically meaty page-to-page payoff and fusion, and, for a third and different example again, the Joe Orlando-edited HOUSE OF MYSTERY from DC in the early 70's, now in two volumes of SHOWCASE PRESENT.
STRIPS*, METAL HURLANT and EC publications in general also come to mind.
*Grandaddy NZ anthology from 1977-1987 which featured Colin Wilson and Barry Linton.
NEW GROUND has managed to achieve something of an edge. It comes out every April and October, so this is about the 4th year. Jeremy Bishop, publisher and editor, has put the resources pf Gotham Comics (Onehunga in Auckland, New Zealand) at the disposal of a cartload of creators in the New Zealand swim. Why? It seems to be because he can. The glory is limited. He could just take the money and sink it into vice and simple hedonism. Instead, as in a "good economy" model, he "reinvests"...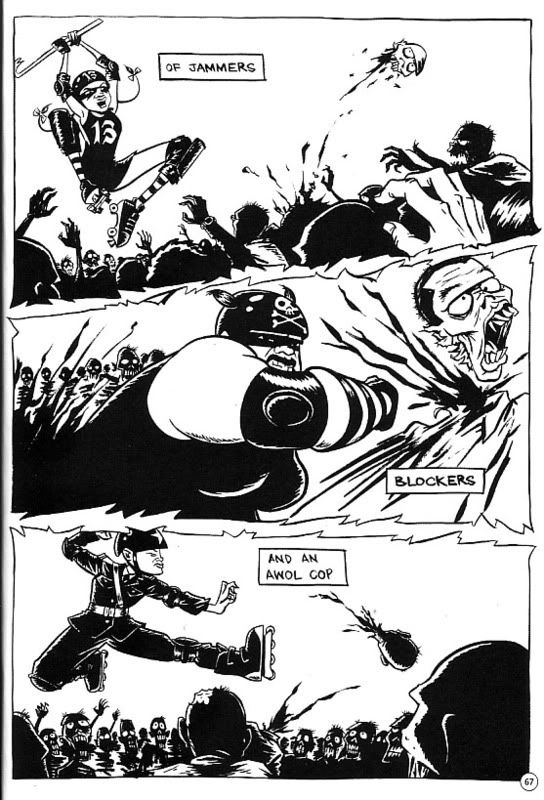 Ant Sang of the DHARMA PUNKS book launches his Post-Apocalyptic Roller Derby Zombie-Kung Fu mash in NEW GROUND #9, and it looks like a million Gothic bucks. Those great brush strokes that Paul Pope shouldn't sneeze at are in full evidence.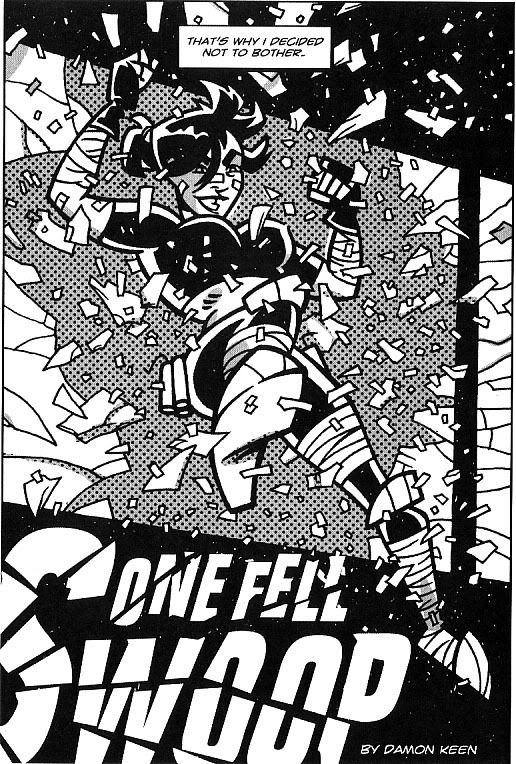 Damon Keen and Simon Adams provide work that is solid and clear. Keen impresses with high impact graphic noir strength in
One Fell Swoop
. Adams, whose pages are snow to Keen's jet, is a cartoonist from the school of Without One Superfluous Line. In
Junk Story
, the attitude is as important as the story, and both are clever. Simon has some of the same tics and traits in his drawing as the excellent Karl Wills and Toby Morris.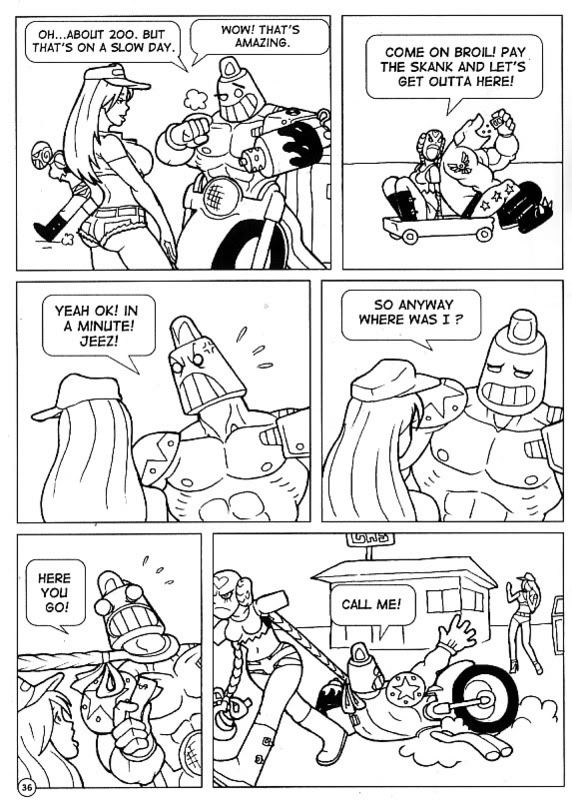 Matt Kelly has fun with the Beehive, (NZ Prime Minister) Helen Clark and comic lore in general. The drawing style is something like a fine art black ballpoint pen on unlined paper. It's grand and mythological (as you would anticipate with such essential characters as Maui's Dolphins) and recalls an ancient Laurence Clark and Kevin Jenkinson's serial from STRIPS,
The Mawpawk
- likewise a New Zealand-based superhero thingie focused on political satire, though
Kiwiman
is as much a cultural satire parade.
It's a pity I can't scan images from pages utilising tones, because there are a few things to be said. Or maybe it's just the printing/final result. About
Remnant
by Dave Passmore and
The Final Sunset
by Susan Rugg...
Actually, it's the lettering fonts I wonder about the most. Susan seems to do her own hand-lettering (which I wish more cartoonists would recall is a viable proposition) but in this case, the quality of the calligraphy in the balloons can't match the stage she's at with her drawing. It's a lot better! I'm not that enthused with the washes and tones. They seem to cover up some really good, even mature drawing going on underneath. I think Susan Rugg should reexamine her commitment to both of these things, because they're holding back the development of her clear ability to produce excellent work. I have similar sentiments about Dave Passmore's strip. Maybe it's a personal problem of my own, but the font this is lettered in seems to be so lacking. It takes you out of the strip rather than complimenting it and letting you sink in. Also: the tones are crazy. They're beautifully employed on page 24 and 25, but the layouts are better there, as well.
Blix the Barbarian
by Joseph Poole has good tone work and nice drawing - as does
Space Chronicles Universe
by Tsai Lim. Well, maybe just a trifle murky, but that could just be the capricious result of the printing. Whatever. They're both nice.
Lucha and Koko
by Michel Mulipoha has the most well intergrated tonal "colouring"in the entire issue. And it's as amusing as hell.
Anyone looking into the art of lettering should make sure they can examine the work of Alex Toth, John Workman (constantly working alongside Walt Simonson), Gaspar Saladino (countless DC comics), Art Simek (countless Marvel) and, in particular, "our own"Barry Linton and Roger Langridge. Barry still hand-letters. Roger has souped-up his letters into a font he can employ on the computer. There are an assortment of ways to study and "go for."
http://www.comics.co.nz/
http://www.myspace.com/jeremygotham
http://www.myspace.com/kid_liger
http://www.kiwimancomics.com/
http://www.antsang.co.nz/
Further inquiries, just ask little ol' me.
Corn
Reading: DEFENDERS #1-20 including the Avengers/Defenders Clash - (I was just perusing DEFENDERS ESSENTIALS vol. 1 and before I knew it, I was reaching for the Len Wein stories in vol 2), assorted stories from SUPERMAN SHOWCASE vol. 1, NEW GROUND #9, AFTER 1984, a poetry chronicle by Judith McNeil and KAVALIER AND CLAY by Michael Chabon.
Listening: Ministry, Mars Volta and Brian Eno.
Watching: The's TV's back on for LIFE ON MARS and OUTRAGEOUS FORTUNE.
Films: TWO WOMEN (where Sophia Loren immortalises herself), ME AND YOU AND EVERYONE WE KNOW (for something so remarkably twee, not a bad film) and COOL HAND LUKE.