It would be great to actually own this ish.
(BTW, eBay bids today range from $50 to over $150 if in the dubious CGC condition.)
Any (topical) comments from this revisiting?
Iron Man #3 (1968)
http://marvel.wikia.com/wiki/Iron_Man_3
page 1p
page 3c
page 4c
page 5c
page 6c
MORE panels & review here.
More pages out of order here:
Back Cover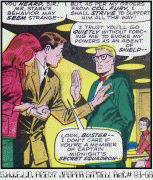 ---
Support Cancer Research and Alzheimer Research.