The renumbering relaunch came out this week - did "War Machine" hype secure this title on your pull list?:
Punisher 218
https://www.comicboards.com/php/show.php?msg=mub-2017111618361196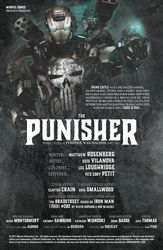 The next ish is available on December 13 2017. Is your Pull List locked and loaded with it?:
The Punisher 219
https://comicstore.marvel.com/The-Punisher-2016-219/digital-comic/46795
> FRANK CASTLE: WAR MACHINE Part 2! Frank enters enemy territory, and he does not enter quietly! But there's more to this land than just war. Can Frank navigate both the soldiers and citizens?