Tony Stark makes a suprise appearance on the last page of #4 (THIS WEEK):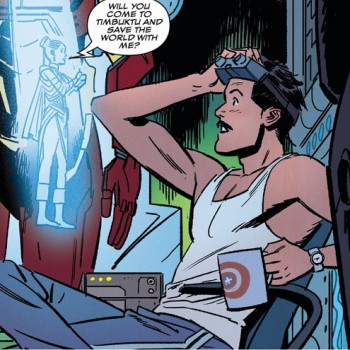 And in #5 Iron Man makes a guest appearance to help Princess Shuri against a alien monster cricket's generated black hole anomoly. Remind me if IM has appeared in the same issue as Moses Magnum before? We will see if Tony is impressed by Shuri since the Hickman's Infinity Event, let alone her ..uhm.. new 'Wings in a Can'?
Will you read this?
> THE TWO BADDEST GAUNTLET-WIELDERS IN THE MARVEL UNIVERSE UNITE! An alien creature has invaded Wakanda! And with her powers strangely malfunctioning and her brother still missing, Shuri is in over her head. Time to call for backup. Enter: Iron Man! But can these two tech geniuses figure out how to de-power an energy-sucking alien before it destroys the entire continent? Don't miss the end of the first arc — and a dramatic change for the princess of Wakanda!
https://comicstore.marvel.com/Shuri-2018-5/digital-comic/50646
---
Support Cancer Research and Alzheimer Research.