In the style used by Iron Man Unit 007 for Iron Man 2020 #4 here's 8 points taken from this issue considered...
2020 Rescue 002
1. Lame cover. Another pointless variant here:
https://www.previewsworld.com/Catalog/FEB200911
2. HYDRA up and running and may or may not have skipped a beat following Secret Empire fall. (peevish trope)
3. Intro of bumbling misguided teen Agent
Fleckman
. (throwaway or future loser; BTW does anyone know whatever to HYDRA Bob?)
4. Rescue Armor (seemingly) can functionally transmorphisize. (as peevingly high tech as Extrimis was; H.A.P.P.Y. advanced enough AI to make independant decision for her to suit up but not advanced enough to be affected by the Robot Revolution morality? Is HAPPY inferior to FRIDAY?)
5. Rescue Armor may or may not be able to generate new corporeal matter of various forms but the cleaners pen and rag were evidentally actual items that Pepper stereotypically included in her well stocked "travel purse". Also the repeated punning on the name "Rescue" just reminds me how weak a name choice it remains.
5. So, the good guys know where the HYDRA Base is but none of the global law agencies were NOT yet alerted. (peevish trope)
6. HYDRA tech sophisticated enough to make a superior
HYDRA-BOT
, in ways a challenge to or greater than the Rescue Armor, but not good enough to detect Pepper's infiltration in any way. Fortunately, the A.I. programming was inferior and Pepper was able to cleverly overwhelm it's logic circuits. (a recycled tried and true method used by James Kirk, Dr.Who, and Scott Summers among others - but still a fun easy solution)
7.
Jude
, Tony's father, is alive and well and working for HYDRA. (still? again?) You can bet your bippy he escaped the explosion.
8. Pepper doesn't give a crap whether the untried and endangered Jude either lives or dies - as long as she got the dismembered pinky DNA. (plans to remake Stark's body just like... uhh... Capt.Kirk, Dr.Who, and Prof.X have done in past to be recycled into "real McCoy" status) This scene seemed cold and unheroic as leaving Robbie behind to die.
SPOILER SCANS:
https://www.cbr.com/rescue-2020-pepper-defeats-hydra-villain/
https://screenrant.com/avengers-pepper-rescue-hydra-comic/
PREVIEW:
https://www.comixology.com/2020-Rescue-2-of-2/digital-comic/836504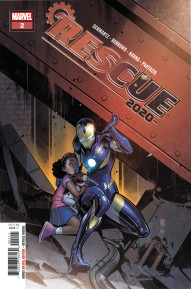 ---
I miss Dad & Dan.