BRAVE AND THE BOLD SHOWCASE vol. 2
And so the BRAVE AND THE BOLD I remember begins...
I like
Project Pegasus
from TWO-IN-ONE #53-58 and the Bill Mantlo/Sal Buscema
Dark Rider
four-parter (with Wanda, Vision, Moondragon and Dr Doom) from MARVEL TEAM-UP #41-44...
But most Bob Haney and Jim Aparo team-up productions were that good, and all in one issue!
I have a few of these black and white stories in colour in their original glory, and getting this edition (#88-108) is a huge placeholder, as the search for back-issues continues on. Many of my ESSENTIALS and SHOWCASE are intended to be
it
as far as settling for a format, but this is different. These are pearls for me - along the lines of MAN-THING and PHANTOM STRANGER, where I want the monochrome telephone books
and
the originals. I might as well mention KAMANDI as an example. There, I want the originals and the hardback colour reprints.
Jim Aparo is either my favourite BATMAN artist of all time, or else he shares that station with Batman-Dean, Neal Adams. As with the Hulk, where I tend to call it a draw between Herb Trimpe and Sal Buscema, I think I'll do the same here.
Adams inks Aparo on half of
"The Commune of Defiance"
in #102 co-starring the Teen Titans. It's odd and ends up looking like Sal Amendola. A lot of art was starting to look like a rash of Adams, what with his popularity's impact, and this looks like one of the new Adams-types on the block. It's very interesting history to see none-the-less.
BRAVE AND THE BOLD #93 is the Batman in the House of Mystery piece by Denny O Neil and Adams. It's pretty wonderful. Denny never wrote anything as well as the Bat, I feel.
Clear runaway favourites are: #91 (which I have in blue-fishnet colour, thank God)
"A Cold Corpse for the Collector"
with the Black Canary, delectably drawn by DC's John Romita of beautiful women, Nick Cardy, #98 with the Phantom Stranger in
"Mansion of the Misbegotten"
, #101 with Metamorpho
"Cold Blood, Hot Gun!"
, #104 with Deadman (always one of the teams of the century - any century!) (ps: got it!) and #106 straight through 108, featuring Green Arrow, Black Canary and Sgt. Rock.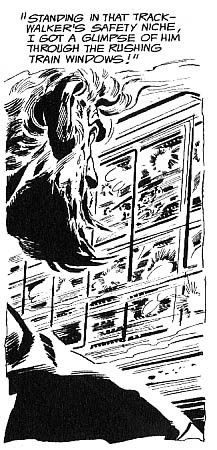 My all-time favourite issue of BRAVE AND THE BOLD is issue one hundred. That's
"Warrior in a Wheelchair"
. In a way, it's my favourite defacto GREEN LANTERN/GREEN ARROW issue, as well*. Here we get Bob Haney's classic take on that peculiar combination. It's so wrong it's right and vice versa.
*Otherwise, my easy favourite of GL/GA was the overpopulation story set on Malthus in GL/GA #81. That one's bloody beautiful.
Yes, I have the original of this comic. You bet I do!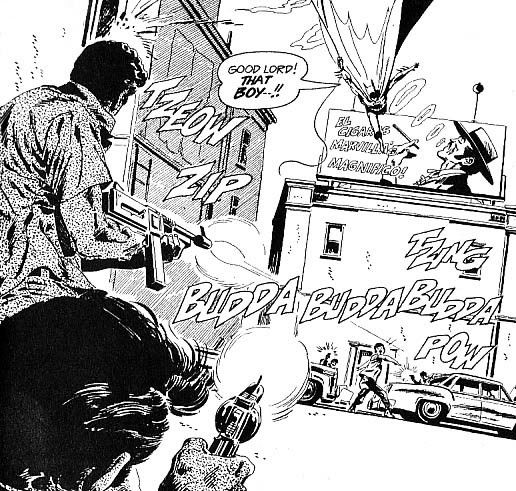 The other story that takes me back in a pleasant, foolish kind of way is the the Flash team-up in #99, drawn by Bob Brown, inked by Nick Cardy. Bruce Batman is possessed by one of the ultimate pirate spooks with a wooden leg and a klumping walk, Old Manuel. Doing the Batusi he's not.
(Annnnd... got it!)
Corn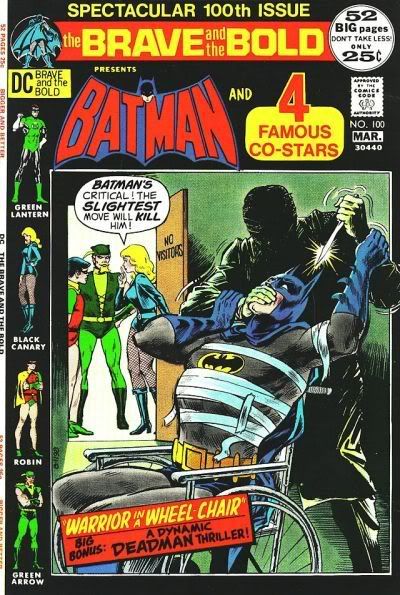 Reading: BRAVE AND THE BOLD SHOWCASE vol. 2, bits of Michael Caine's autobiography WHAT'S IT ALL ABOUT as it pertains to the flicks I've been watching and GOD IS NOT GREAT by polemisist Christopher Hitchens.
Listening: Who's That Lady? by the Isley Brothers, Boom Shacka Lacka by Hopetoun Lewis, 96 Tears by Question Mark and the Mysterians, Sweet Sixteen and The Passenger by Iggy Pop and God's Away on Business and Misery is the River of the World by Tom Waits.
Watching: The third season of the MIGHTY BOOSH - actually several doses better than ever!
Michael Caine Season: THE LAST VALLEY, THE MAN WHO WOULD BE KING (opposite Sean Connery) and ZULU (malarkey but grand like an old ensemble western - it seems like everyone gets wounded once each to make the film last long enough. The Sergeant Major was easily the most beguiling character. This trite old treat was Caine's first feature film.)
Other flicks: INSIGNIFICANCE and COFFEE AND CIGARETTES.