SUPERMAN/BATMAN ANNUAL #2
http://www.dccomics.com/comics/?cm=8983
http://www.comicsbulletin.com/news/120537825894378.htm
http://www.comicboards.com/outsiders/view.php?trd=080423235513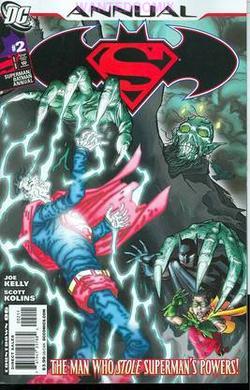 The art and story were pretty good, the SM/BM interaction scenes really good; however, did not like the villain or his abstract powers handled at all. Liked the Robin motivating Superman moment too.
So, is this issue tell the NEW '1st' meeting between Superman and Robin post-Countdown? There's no doubt others been (right?) but it'll be a shame that the Man of Steel mini version is now obsolete. Scratching his name in the plate for the Boy Wonder was a neat wide-eyed moment to remember.
Does post-Countdown = post-52 now that Countdown is over? Is there still an
Ambush Bug
membership plaque?
Do we know what story Superman and Batman found out each others identities post-Countdown? In relation to the JLA history?
In this issue, it seemed to me that Superman was trying to recruit Batman before the formation of the team? Wonder Woman was put back into the formation - were these 2 guys? At the end of this story Batman seemed interested in the novelty of the idea of Reserve Status only. But the logo of the JLA card at the dinner table makes the time placement confusing. Are readers to expect a new JLA formation storyline retelling?
Hopefully misread the issue - it means more if circumstances forged the team and not Supes&Bats.
Curious to read any opinions of the JLA implications from SUPERMAN/BATMAN ANNUAL #2...