Justice League 067
Yep. Another disappointing installment. Also, it's a very embarrassing, if exciting-cool, cover choice that definitely should have been for next ish.
Soooo, almost all the active JL weakly drawn line-up gather to... basically sit on the sidelines to watch the United Order line-up fail miserably again and then have mortal Batman show them all up by shooting the guy with gun (yep, a gun). Leo Lane gets his first name and Phantom Zone is now a more presentable Earth's punishment option are the bearly notable takeaways.
Crummy conclusion, correct? At least it IS the conclusion and the backup had some Atlantis/Merlin concepts/canon worth thinking about. That last page vitriolic spellcast by Z was palpable.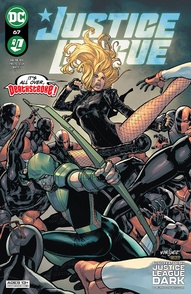 ---
Support Cancer Research and Alzheimer Research and COVID Research.