HAWKMAN SHOWCASE vol. 2 starts out like vol. 1, packed with tales written by Gardner Fox and drawn by Murphy Anderson. And then it mutates, even before the last issue, #27, and ATOM's book becomes ATOM AND HAWKMAN.
The Gardner Fox stories are many of the best. The Anderson artwork embodies his imagination supremely well. Of course it does. The Manhawks seen in
"World That Vanished!"
in HAWKMAN #18 are iconic now, like the Wingors in
"Lord of the Flying Gorillas"
in #16. "Flying Gorillas." Yes, I did just say "Flying Gorillas." They're the Wingors. They have vast wing expanses and are huge flying obstacles. These are the touchstones of a visually distinguished DC Universe of the 60's. In HAWKMAN, fantasy runs into science fiction like butter. This also happens in GREEN LANTERN and FLASH, though HAWKMAN seems to have specialised.
HAWKMAN #22 features the new crew of Bob Haney on the story, with Dick Dillin and Chuck Cudera on the drawing side. It's quite a U-turn in style.
"Return of the Death Goddess"
in HAWKMAN #25 is easily the best. The malevolent spirit of a Medusa takes physical possession of Shayera. Haney's other issues don't have quite the usual kiss of life he usually supplies.
It's interesting to have Dick Dillin's BLACKHAWK inker supplying heavy-duty brushwork here. Each page looks like five bubblegum cards. Each page has two or three panels that a Lichenstein-lite would love to filch. Cudera is neutrino-value, heading back towards the 50's. In later installments, Dillin has the technically finer inking of Sid Greene, giving his work that clarity and silkiness I associate with inkers like Giordano and Giella as well... That's heading towards the 70's. Cudera's cuneiform inking is a sort of primitivism. It emphasises the wonkiness in Dillin's work, the sheer gung-ho madness his pencils have got. Cudera's approach is designed to survive any kind of printing job. The feathery fineness of a next generation of inking possibilities aren't what he's about. It would interest me to see how Cudera would have inked Herb Trimpe or Jack Kirby.
Raymond Marais writes two installments with the same art team and #27's
"...When the Snow Fiend Strikes!"
, a sort of Abominable Snowman yarn set on another planet is the better of the two.
Artistic grace did a come-back in the first ATOM AND HAWKMAN issue of #39. In fact, here, Murphy Anderson is inked by the sensitive slick of Joe Giella. If that's not crazy enough, the shorter 10-page solo stories from the next two issues are Anderson conditioning Joe Kubert. All bar one panel is rather beautiful.
Jean Loring's slippery-slope slide begins here in ATOM AND HAWKMAN #45, the final issue of the series.
"Queen Jean, Why Must We Die?"
is by Denny O Neil and Dillin/Greene. This was to be continued in JUSTICE LEAGUE OF AMERICA. Decades later, it offered DC writers the character they were looking for to be behind IDENTITY CRISIS. I think "Nuts!" to "decades later." It could have been worse for Jean, of course. She could have been born Sue Dibney.
Corn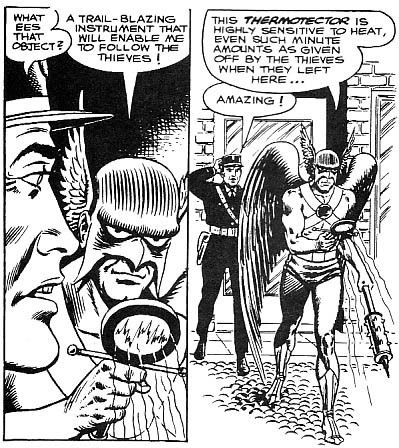 Reading: Just read the last story in HAWKMAN SHOWCASE vol. 2. I've already started on PHANTOM STRANGER SHOWCASE vol. 2 and the GREEN LANTERN/GREEN ARROW 7-part reprint from the mid-80's which includes the 3-part serial from FLASH ##217-219 - (but not BRAVE AND THE BOLD #100 by Aparo and Haney, which I'll be including). Also: HAUNTED #20 (Charlton with a winning Staton cover), BATMAN #418 starring the Creeper by O Neil/Novick/Giordano and DETECTIVE COMICS #450 with some pure 1976 Simonson on an Elliot Maggin story. And I'm slicing through the ULTIMATE CASPER COMICS COLLECTION which came out before the Dark Horse volumes. It's much shorter, but it's full colour. Poetry: MUSEUM OF LOST DAYS by Raewyn Alexander.
Listening: The Buzzcocks, Patti Smith Group, Joy Division, the Stanley Brothers, Grandpa Jones, Bill Munroe and Rickie Lee Jones.
Watching: COOGAN'S RUN and PEEPSHOW.
Flick: LUST FOR A VAMPIRE.
Two of these Hawkgirl images are actually Dick Dillin on JLA with Joe Giella inks. My favourite cover artist of all time Joe Kubert did covers for ATOM AND HAWKMAN.