This was my first experience with a JLA/JSA crossover. It's no JLA #100-102, but what is? Like I say, #81-83 are issues I appreciate no end, regardless.

Also, the Earth One/Earth Two relationship was explained to me in this two-parter. And handsomely illo'ed. What's not to "grok"? They're a set of dopplegangers and the reason is a scientific one. (It is actually. Quantum mechanics allows for non-communicating parallel existences in it's Many Worlds interpretation/s.) Doubles, a second Earth with a number describing it, separated by vibration... A child's imagination and understanding is not stunted, generally speaking.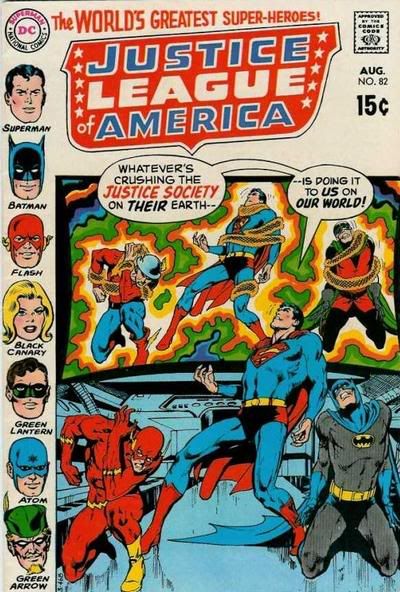 JUSTICE LEAGUE OF AMERICA #82 and 83 are by O Neil/Dillin/Giella. These strange nuggets are called
"Peril of the Paired Planets"
and
"Where Valor Fail... Will Magic Triumph?".
It's a bird, it's a plane, it's Superman crashing through buildings, trucks, pavement like a blind man. Or a sleeping one, which he certainly is by the end of page two. Hawkman and Flash retrieve him. In the Satellite, Batman and Atom also puzzle it out, standing over the comatose man-in-blue. Batman's logic suggests magic, which was Superman's "New Krytonite" by this calendar month.
Batman is then struck by this dang complaint himself. He's choked in his version. Hawkman sends out for Black Canary and the Greens.
Page 5 is historic. It's the multiverse hinted at, and the second Earth explained quite well. Get a poster and put it on the wall opposite your pillow if'n you don't get it.
Enter Red Tornado who is full of woe.
"Who'd say a robot was alive? Certainly not the Justice Society..."
(Letalone Brian Bendis or John Byrne, but that's over in the Marvel camp.) Out there in the depths, Tornado finds what may be an invading spaceship heading toward Earth. Naturally, Red Tornado luck, it zaps him and some aliens that look like over-evolved Dillin snailheads have to go and unscrew his head like a wine bottle and stick some badness inside. Creator2's underlings slide what looks like a cosmic cassette tape into his open head and set him loose - to take his position, as pinned as a butterfly, in the nexus point between the two Earths. Creator2 wants the energies of destroying the enjoined Earths to use to build a new planet for a client. (Sound a bit dull? I guess.)
Creator2 sends the blue servants with the Dillin antennae down to Earth 2. They carry whiz-nets with organic looking amorphous tendrils coloured ruddy purple that can assume any shape, thread throughout. The similarity to Roman gladiators is probably not lost on many.
Below, after Earth Two's Superman has dropped off Doctor Mid-nite, we see what happened to Superman of Earth One.
"A silly collection of threads can't hold... huh? old... m-me!"
Superman complains, possibly on behalf of both of them. But it can. And down he goes, just like we saw on the first two pages on Earth One.
Doctor Mid-Nite is next. Down goes Batman, throttled by a snare web. I think I'd sooner try my luck against a drift net! O Neil's had Mid-nite picked out to be Batman's Earth Two equivalent for a while. (What the heck? Cosmic weather patterns. Another time, Earth Two Batman might have needed to be the other half.)
Now! Jay Garrick puts up by far the best struggle against one of these invaders. He gets four pages! He doesn't go down until he encounters a half-materialised Earth One-Flash. The two nets take advantage of his distraction and wrap around him. Naturally, Barry on Earth One is also a victim.
We get a double page spread with the almost crucified Red Tornado stuck fast - and the inhabitants of the two Earths each seeing ghostly manifestations of their other alternative selves. It's awesome.
The JSA convene around their meeting table - Batman, Sandman, Johnny Thunder, Wonder Woman, the Spectre, Doctor Fate, Mr Terrific, Alan Scott, Wildcat, Hourman, Atom (I think) , Hawkman with Starman standing. Starman sets off because he is impatient.
The GL/GA Gang show up at the League Satellite. I guess this is the first time Queen Arrow is sarcastic to Hawkman. Did this scene give Len Wein the notion?
Comparing notes, Black Canary comes to the conclusion that these spiraling events are events that she is responsible for. She holds her hair like she was in a shampoo commercial, only it looks many times better suited than that. She is starting to believe that she must perish...
Part Two:
Yes, this is the last one in the book (JLA SHOWCASE vol. 3). JUSTICE LEAGUE OF AMERICA #83. As mentioned, this conclusion is called
"Where Valor Fails... Will Magic Triumph?"
And its by Denny O Neil, Dick Dillin and Joe Giella.
Great cover by Dick Dillin/Murphy Anderson. Yup - here comes the Spectre back from the deadlands. Problem? There is for the story itself. Spectre was sitting around with the collected Society last issue. So friendly glitch-smack to Denny or Dick for that one!
Page one shows the Canary fretting for the Earths and herself, Creator2 speaking exposition and the Tornado fixed in space. Creator2 sends out the hounds, and the hounds are the flying, reacting, troublesome whiz-nets. They're homed in on the Justice Society who are all gathered together, minus the anomalous and previously sighted Spectre and Earth Two Atom. (What the hey! It was great seeing them all sitting at the same table.) Indeed, two thirds of this page is devoted to another concentration of JSA members and that's just smooth and beautiful. GL, WW, Doctor Fate, Hourman, Starman and Johnny Thunder are gathered around their comatose companions, the fallen Superman, Mid-nite and Flash. They at least look peaceful and the main thing is that they're still alive.
The Snare-Nets have at everyone! Starman goes down, Wonder Woman is handcuffed by her own bracelets and Hourman has his hour of power used up in an accelerated shake-up of collapsing minutes and seconds. Johnny and Thunderbolt bicker lightly.
Atom, GL, GA and BC mope and conjecture together back in that other Earth on board the Satellite. Hal Jordan suggests placing Dinah in yet another dimension. Zipping about the converging Earth's, he finds the Red Tornado, and he's about to join him, just about. We see on Earth One more solid apparitions of everyone's doubles. Hawkman saves an old woman in a runaway wheelchair and then he is smothered invisibly. Earth Two: Two Snare-Nets have reformed themselves as a wooden cage, trapping Alan Scott - and Hal Jordan!!
I believe my favourite Denny O Neil Leaguers are Atom and Black Canary. Atom is sitting with his hands on his head perplexed. Canary is saying she must cease to exist. Rightly enough, Queen Arrow is saying "In a pig's ear." Atom asserts that there is only about twenty minutes left in which to take any measure at all. Doctor Fate, another O Neil winner in my book, takes the Thunderbolt and Johnny to the crypt where the Spectre is at rest. (Maybe he's like Elvis and various other folk that show up for sightings!) The Spectre's advice is simple. Battle this arcane science with arcane magic. Johnny watches the three with the magical powers fly off against the moon and Doctor Fate recites the title of the story. Spectre finds the Tornado and Lantern where we left them. He twists himself between the slowly colliding Earths like a cosmic Elongated Man. Thunderbolt and Fate close in on the space vessel with Creator2 and the antannaed people. Magic means they get aboard before anyone is aware of it, though they are seen approaching.
The Thunderbolt blunderingly does his thing.
"My magic isn't set up for the alien scene."
Fate, a vastly superior sorcerer, twists power through him that pushes the ship apart. There is cataclysm all over both Earths. It's come down to the wire... The device in Red Tornado's head is disabled. Weeping, the Spectre has stretched himself too far and surrenders to
"...the ultimate peace, the final contentment..."
Black Canary and two Earths are saved.
At least until some
Crisis
comes along...
Cornelius
Murphy Anderson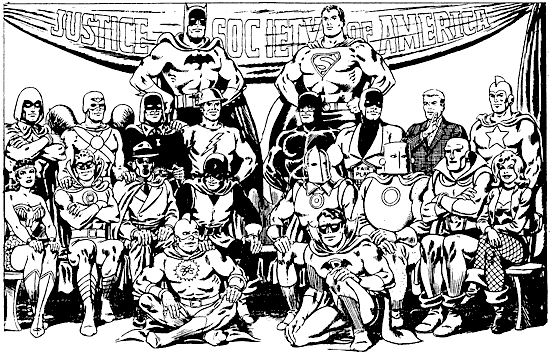 Reading: THE FRANK BOOK - the complete collection of Jim Woodring's "sui generis" Frank that I have no trouble pinning as a cat, FLEENER #1-3 (by Mary Fleener, each issue as concentrated as a graphic novel), BRAVE AND THE BOLD issues all over the map by Haney and Aparo, and random stories from the SUPERMAN SHOWCASE vol. 1. Book: DIARY OF THE KIRK YEARS: by Margaret Hayward.
Listening: JOY DIVISION, the doco on the band (dvd.)
Flicks: On 8 mm, WAR GAMES and the classic George Pal TIME MACHINE, on the genuine big screen, DISTRICT 9, and on dvd, the exquisite, darn near perfect CHARADE with Cary Grant, Audrey Hepburn, Walter Matthau and James Coburn.

THE ANCIENT ONE to his prize-student-to-be, Stephen Strange:

"Naturally, Man of the Western World, you must not allow yourself to believe in magic! It would be... unseemly!"