"Hey, folks! I'm here at the Merry Marvel Graveyard today to speak with Captain America's carcass to see what he thinks of the latest goings-on in the MU! First off, it's good to see you, Cap! What do you think about Bucky taking over your role?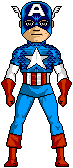 "I see. I don't blame you. Well, what do you think about the Avengers: The Initiative team, both first class and current?"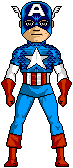 "I see. Well, what do you think of Tony Stark bein' made the Director of SHIELD?"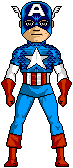 "Yeah, I vomited heavily myself. Well, at least Mockingbird appears to be back with us, huh? I always liked that chick. What do you think about her return?"
"I was
this close
to snagging a date with her for the good Lord's big prom when I suddenly found out the Mockingbird I was speaking to was a Skrull. Boy, was that a downer. When I found out, I did this in my grave...."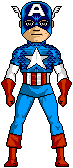 "I hear yah. When we found out Alicia was a Skrull way back, I was, like, 'Thank God the matchstick was married to her and not me'.
"I heard that, yah big orange Lumpasaurus Rex!
"Yeah, yeah, I'm cryin' fer ya. Anywho, that's the end of the interview. Thanks ta Cap for agreein' to it. See ya all in the funny books."