It was tougher thinking of an opening to this post:
OPTION 1
Message Board, Message Board which Message Board to pick for this mini...
OPTION 2
Take the good sales #s from here:
http://www.milehighcomics.com/cgi-bin/backissue.cgi?action=list&title=40181552936&snumber=1
add this:
http://www.milehighcomics.com/cgi-bin/backissue.cgi?action=list&title=40187347238&snumber=1
and you get this Marketing mini...
OPTION 3
Masters of Evil sounds waaay cooler than Sinister Six (with all the BND bad press) and this solicit:
http://www.marvel.com/catalog/DOCTOR_DOOM_AND_THE_MASTERS_OF_EVIL.0000.1
sounds waaay cooler than properly setting the stage for readers who enjoy their stories chronologically/sequencially when they consider this mini...
OPTION 4
It's a trap! The unbelievably pleasing 2.99 cover is the ultimate tease for an anticipated increased cover price of special projects; you'd think there wasn't going tobe an exception with a supervillain team-up mini...
DOCTOR DOOM AND THE MASTERS OF EVIL #1
http://www.marvel.com/news/comicstories.6597.Preview~colon~_Doctor_Doom_and_the_Masters_of_Evil_%231
s
p
o
i
l
e
r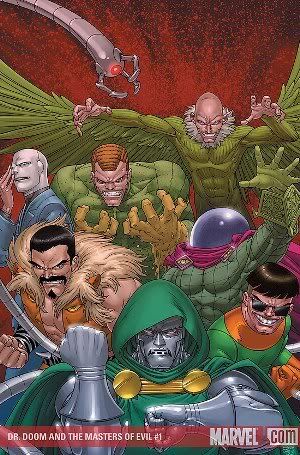 s
p
a
c
e

Some page by page reactions is easier...
Its a fun read and fun art -- IFFFFF in some alternate reality universe vane, like Marvel Adventures Universe for example. Is Kraven still alive in THAT universe?
And then its ALL in fun, too. Hard to take the Iron Man and Dr Strange showings seriously. And will we see the adamantium spear bend in 2 or 3? Hope not. Dr Doom seemed in fine form but the Six were lovable buffoons. Kind of like when Chameleon met President Obama. Times six.
Hoping someone will point out a blatant oversight on my part or Marvels to state if this is in continuity. Not looking forward to either answer thus going to save my money on 2 and 3.