Moon Knight 189 (2018)
Now THIS is what the relaunch/renumbering should have been!!
So much revealing content. So much fiery action. So much intriguing potential.
PageByPage reactions to compare if you read it...
00 Awesome cover.
01 Evocative prologue and scary threat.
02-04 Such a craptacular road to get here but the payoff of establishing the 'new' status quo of Marc's multiple personalities looks well worth it and long overdue. And no more misleading and misdirecting of 'is it or is it not' really Khonshu - the Egyptian God is actually narrating the story thru MK! (Unless they turn around and imply or state it could be just a personality unto itself - bah.) Anyways, Khonshu's historically restrained and constrained use of Spector as his avatar fits arguably near perfectly with this interpretation.
05 Who is this orange guy?! Very intriguing city tracking sequence.
06-07 Meet the 'reimagined' Steven Grant. Refreshing differences from billionaires like Stark and Rand. Likable as he was in his heyday.
08 Oooooh! He's the evil avatar that stole MK's spotlight in last issue's relaunch/renumbering! Hmm... Okay, he's interesting and can have a pass for the #188 debacle.
09-10 MK is back in his element - a light in the dark. Yeah! Plus he's back in his classic duds! Yay! Thought provoking Khonshu POV of MK and also MK POV of telepaths.
11 He's back from the prologue: The Truth! More evil and fear for readers to bathe.
12 This is good face off! Does MK have wrist-lights now? Very cool idea for his character! Great metatextual mocking how he asks the villain for his trope introduction.
13-14 Really good match up concept with the destructive personality possessor vs the multiple personality. Really good outcome.
15-17 Meet the 'reimagined' Jake Lockley. HOLY CRAP! He is almost nothing as he was in his heyday. Shocking overdose of Castle and Howlett genes mixed in.
18 DELICIOUSLY GROANWORTHY PUN! Great done-in-one clash. Awesome art 'til now. Look forward to a Return of The Truth.
19 Intriguing epilogue to see who Ra's avatar has been seeking out...
20 Holy Crap moment again... Is that the inevitable Return of...?!
Next issue cover: Marvel finally nails one! Patient 86's codename will be the deliciously symmetrical clever codename of "SUN KING"!
So good. So recommended.
https://comicstore.marvel.com/Moon-Knight-2017-189/digital-comic/46374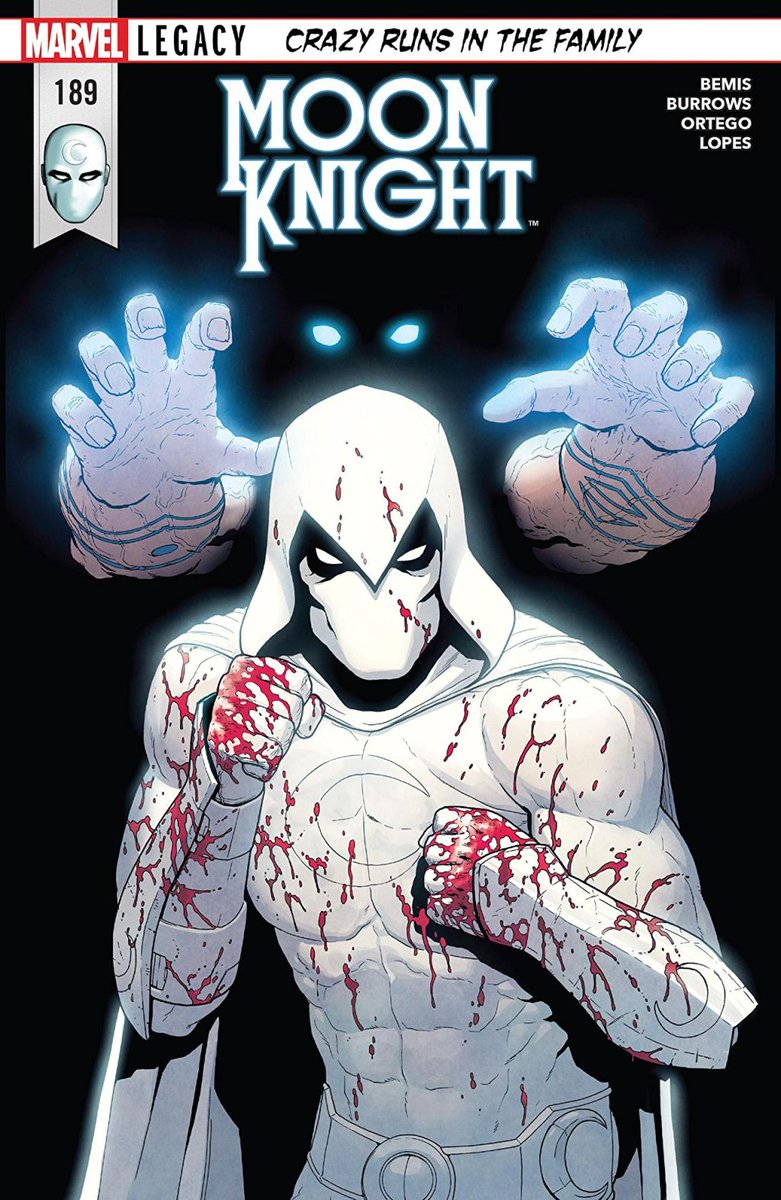 ---
Support Cancer Research and Alzheimer Research.