"Oh Snap!"? Heh, would a GOD of Magic even have to snap his fingers to cast any spell?
Doctor Strange 382
Great cover. Significant issue. Pretty much like it all - 'cept some of the Tourney and Sentry elements as presented.
Was it explicitly clear the "Exile of Singhoon" would transfer ALL of Earth's magic (or LIMITED remains thereof) and that Zelma's soul hid this magic spell? It should not be new reveal in a Recap Page.
Worst. Tournament. Ever. ...Don't get me wrong, it's great to FINALLY get belated deets to Loki's new station and Doc's new vet job but the MINIMAL information given will take some effort to swallow - let alone digest...
==THREE TIMES???!!! This is new, right? Whether yes or no - between which issue #'s would his previous 2 vistories have even happened? This seems like such a boring method. Such a tournament would earn a whole mini or maxi in the past with the full Harry Potter treatment.
==How much magic is left after Empirikul's Last Days cleansing?
==Who are all these nobodies? Did no Handbook A-Listers, good and bad, even score a background cameo? Examples:
https://comicvine.gamespot.com/sorcerer-supreme/4015-55956/characters/
==Doesn't a physical smackdown seem like such a lowbrow way to choose an SS?
==When was the last time The Vishanti acknowledged Strange as Sorcerer Supreme? Remind me the role three-head superentity played when Voodoo became SS (and when Iron Fist's costume got whitewashed)? It would have been nice if they weighed in on Last Days affected them, too.
==Loki wasn't even invited or competing! What about not even a native of Earth 'cuz you'd think that would be a (swaying) factor for the SS of Earth, eh? But since they don't want a Mortal, it appears that is no longer the case. It nice that his recent efforts at atonement are noted but it completely contradicts his current War of Realms actions (as far as readers go).
==The Vishanti act awfully spiteful to Doc considering all the good he's done! And since when does the SS have to "be all good"? Hasn't other SS's (on Earth and different worlds) used Dark Magic in the past? And being isn't PROTECTOR of the Realm is a newly assumed title they are bestowing? Sure, that's what Strange did but what about when an evil sorcerer stole his title SEVERAL times?
Again, it's great what little Doc told Sentry of the tourney. What was worse, is how much less we're told how he 'fixed' Sentry of The Void - not to mention the apalling lack of followup after his Apoc Twin's Dark Sentry condition.
His awkward dealings with Wong was good.
His intrusive dealings with Bor was good.
Sentry's battle vs Asgard was... open for debate, arguments, and comparisons.
(Might edit in CBMB link any minute now...)
His mystical dealings with Yggdrasil was fascinating. The implications still provoke thoughts. The added honoring of Bats Hound was touching. GOD OF MAGIC is... BIG! First order of business is... PAYBACK! Can't wait to learn more next issue!
HUGE SPOILER surprisingly numerous scanlinks from comicvine & comicbook:
https://comicvine.gamespot.com/forums/gen-discussion-1/doctor-strange-383-the-sentry-and-strange-spoilers-1917231/
http://comicbook.com/marvel/2017/12/21/amazon-year-end-comics-sale/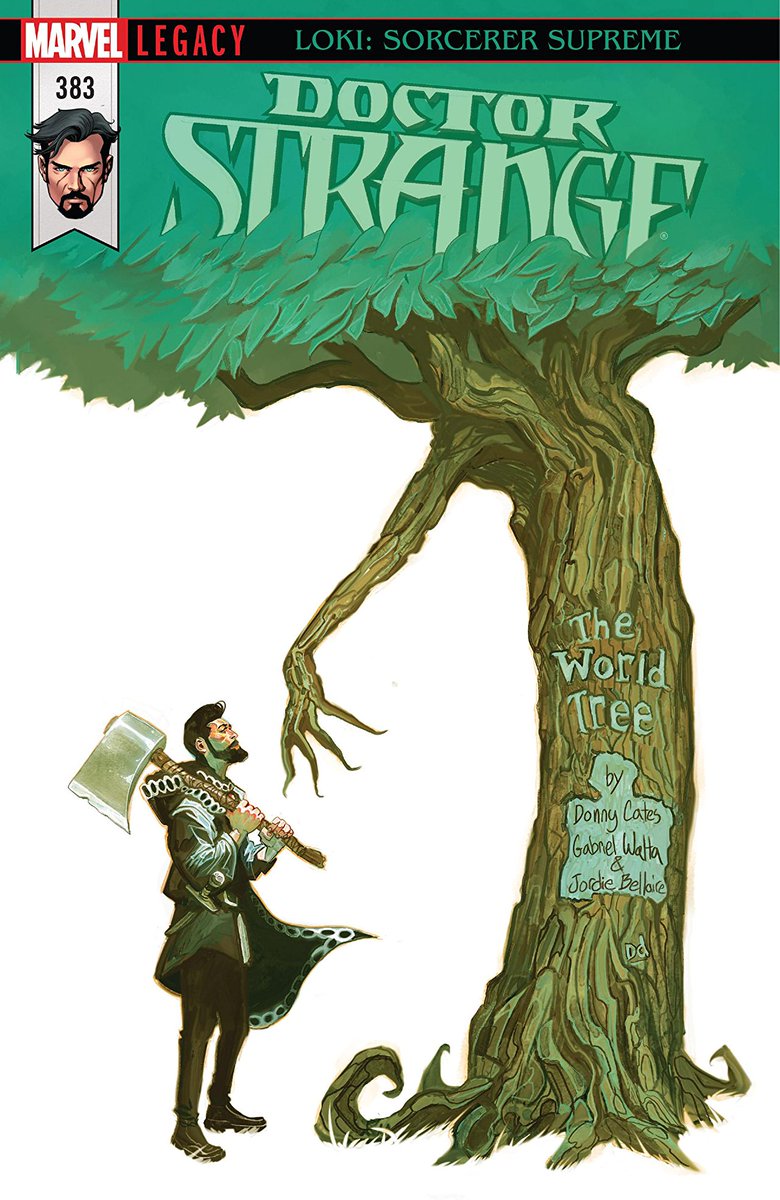 ---
Support Cancer Research and Alzheimer Research.