Fearless 002 (of 4)(2019)
> CELEBRATE THE WOMEN OF MARVEL WITH ALL-NEW STORIES! First, a star-studded adventure by Hugo-nominated writer Seanan McGuire! For Captain Marvel of the Avengers, Invisible Woman of the Fantastic Four and Storm of the X-Men, a seemingly simple day at a leadership camp for girls is turning out to be MUCH more complicated — and dangerous! — than they'd bargained for. Then, GWENPOOL, PUNISHER and Rick and Morty veteran Karla Pacheco dives into the dangerous world of Night Nurse! And don't miss your dose of Herstory with profiles on classic and contemporary creators!
Bullet points to compare if you Byrneread it too...
• Pointless cover. Forgettable ish.
Ms.Marvel and the Big Fem 3
• Revolving Door appearance of Piledriver. MsM owns him in a fight.
• Camp Gloriana, Maine. Intro-ed last ish. They invited Big 3 Women of Marvel last ish who all gather here as Keynote Speakers for 3 silly, contrived fields of expertise. This is 10th year of the camp - last year Spider-Woman spoke (in an untold tale). Same supporting staff from the premiere - some actually named including Melody Guthrie who is embarrassed to be around Sama and Paige since her M-Day depowering.
• nb. FF now has a FANTASTIPOD as a means of travel.
• MsM forced to attend by her ammi. She suspects the camp is a cover for supervillains - to give story some oomph.
• nb. Colors-Changing Katie is a mutant.
• Just a bunch of pedantic POVs of the what biases and hurtles that young mutants/girls/students have to deal with when it comes to education in this day and age.
• Queuing the flashback to the raptor fight Sue had was JUST ODD given that Sue was asking CM about her experience, imo. Can anyone cite that issue?
• Can anyone cite the issue of either the Kree Incursion of Boston or of Seattle?
• Not that exciting - so it would've been more exciting if the last panel actually showed the shadowed machine(?) Kam was looking at. More -or some- entertaining interaction between Sue, Ro and Carol would've made the all-talk story better.
Night Nurse
• Night Nurse is a great and underrated character.
• Filler guest appearance by Dr.Strange.
• Lots and lots and lots of talk about specialty and/or international foods.
• Hidnr is the MU Tinder. Vulture is a client.
• (Revolving Door) Return of Komodo. Her formula transformation is on the fritz.
• (Revolving Door) Return of Sttegron. His formula transformation is connected to Curt Connors.
• Linda Carter proves with prep a normal human can easily beat a supervillain. Nothing flashy but it gives her an female empowerment moment - which is topical in this day and age.
WolverineX-23 & Honey BadgerScout
• This kinda picks up on stopping evil DNA cloning practices that have kinda been left behind from Laura's book.
• Ugh. Gabby is sticking with "Scout".
• nb. Obsidian Industries is named as an evil company that the Damenamic Duo must stop.
• Once again hired guard shoot at the pair. Once again the clawed ones take down shooters with non-lethal kid gloves.
• Lots and lots and lots of between panel action. Easy save of test subject kids - human trafficking is topical in this day and age.
The Spotlight Pages
• Learning about Ms.Ewing, Ms.Martinez, & Rosenberg felt more engaging than the 3 (of which the the Night Nurse tale was best).
https://comicstore.marvel.com/Fearless-2019-2-of-4/digital-comic/52314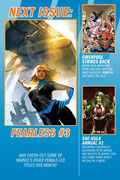 ---
Support Cancer Research and Alzheimer Research.